Birthday Reviews: John Scalzi's "Utere Nihil Non Extra Quiritationem Suis"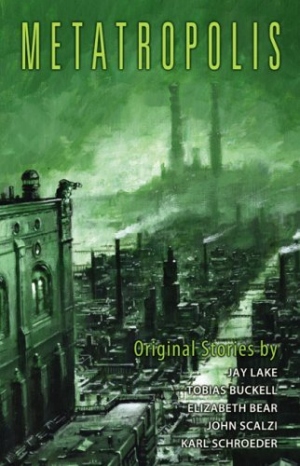 John Scalzi was born on May 10, 1969.
John Scalzi won the John W. Campbell Award for Best New Writer in 2006. He won the Hugo Award for Best Fan Writer in 2008, breaking David Langford's nineteen year winning streak. He won a second Hugo in 2009 for Best Related Work for Your Hate Mail Will Be Graded: A Decade of Whatever, 1998-2008. In 2013, he won a fiction Hugo Award for his novel Redshirts: A Novel with Three Codas. His novel The Collapsing Empire is currently a Hugo Finalist. Redshirts earned Scalzi his second Geffen Award, which he previously won for the novel Old Man's War. His novel The Android's Dream received the Kurd Lasswitz Preis and the Seiun Award. Scalzi served two terms as the President of the Science Fiction and Fantasy Writers of America.
Scalzi wrote "Utere Nihil Non Extra Quiritationem Suis" for an audio anthology he edited, METAtropolis, produced for Audible Frontiers in 2008. The following year, the anthology was published in print form for the first time by Subterranean Press. Brilliance Audio issued the original audio anthology on CD and as an mp3 in 2009. In 2010, Tor reprinted the anthology and in the same year, it was translated into German. The story has not appeared outside its original anthology, whether in audio or printed form.
Benjamin Washington is living in the fully self-sustaining city of New St. Louis. Despite, or perhaps because of, a high-powered mother, Benjy is something of a slacker, putting off tackling his required aptitude test until the last possible moment. His poor scores, and lack of time to retake before the deadline of this twentieth birthday, coupled with his mother's refusal to expend her political capital on nepotism, mean that he must take a job as a pig farmer working with genetically modified swine.
Suffering through life as a pig farmer, Benjy's realizes how much he has screwed up, especially when he sees the girl he cares about together with a boy who is constantly needling him. Even as Benjy deals with the repercussions of his laziness, his learning experiences are presented in a manner that is designed to get a laugh, although Scalzi uses those same lessons to great effect later in the story.