The New Pulp Era: Ghostwriting, Ebooks, and the Economics of Now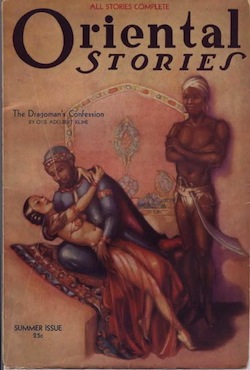 A lot of writers and readers are saying we have entered a new pulp era, a repeat of those days when hardworking writers pumped out exciting fiction in large quantities while facing very tight deadlines. The old pulp era died long ago, and was replaced with modern traditional publishing. Under that model, writers usually only came out with a book a year, and if they did more than that it was generally under a pseudonym. Traditional houses seem to have been under the impression that "less is more" when it came to a writer's output.
Readers disagree. They want more from their favorite authors, and they want it now. Those writers who have come to the top of the new indie publishing revolution tend to be those who write a lot, generally in series, and keep up a consistent quality. Some traditionally published writers such as Guy Haley are moving that direction too. In our interview with him, he talked about how he has to write five novels a year if he wants to make a living at his writing.
Even superstars such as James Patterson are getting in on the game. A post at Non-Fiction Novelist talks about how Patterson's new project "Book Shots" fits perfectly into the pulp mentality. These thrillers and romances are touted as having lots of action and no padding, just like a good pulp story should. They're all under 150 pages and cost less than $5. Plus there's a whole lot of them.
I'm seeing a similar trend in online start-up publishers. My own body of indie published work, while doing OK, is not bringing me enough to live on, so I make up the deficiency by ghostwriting. This is a relatively new venture for me as I shift steadily away from nonfiction writing, but the trend I'm seeing is remarkable.
Ghostwriting always involves a strict written agreement not to take credit for a work, so what follows will by necessity be of a general nature.