The Gorgeous and the Grotesque: The Ceilings of the Uffizi Gallery, Florence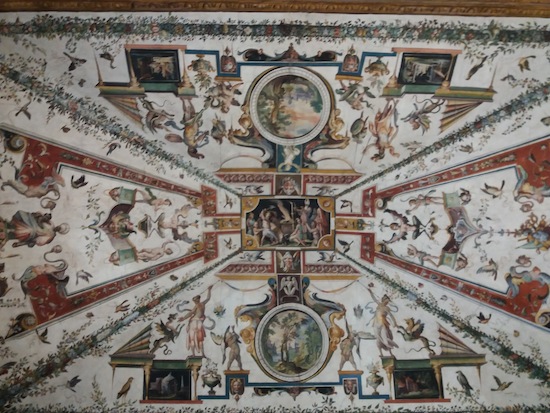 As I mentioned in my last post, I got to explore Florence for a few days, absorbing as much of the Italian Renaissance (and modern pizza) as I could.
So of course I went to the Uffizi Gallery, one of Italy's most renowned museums. While I knew I would be seeing a treasure trove of Da Vincis and Caravaggios, I didn't realize that portions of the building itself are a work of art.
Specifically, the ceilings of the upper Eastern Corridor. These are decorated with bright, lively frescoes painted by Alessandro Allori in 1580 and 1581. Each section is a different theme or subject such as military affairs or exploration, and taken together they act as a window into the thoughts and imagination of Florence in the late Renaissance.