Birthday Reviews: Zenna Henderson's "Trouble of the Water"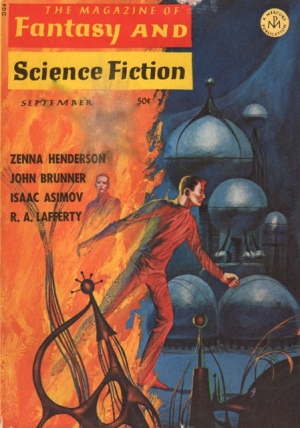 Zenna Henderson was born on November 1, 1917 and died on May 11, 1983.
Henderson was nominated for the Hugo Award in 1959 for her novelette "Captivity," one of the stories in her The People series. Her story "Porrage" was made into a television film starring William Shatner in 1972, and "Hush" was adapted for an episode of Tales from the Darkside.
"Troubling of the Water" was originally published in the September 1966 issue of The Magazine of Fantasy and Science Fiction, edited by Edward L. Ferman. Henderson included it in her collection The People: No Different Flesh the following year. In 1973, it was translated into Japanese and in 1993, it was translated into Italian by Giuliano Acunzoli. The story was most recently included in the NESFA Press volume Ingathering: The Complete People Stories, edited by Mark and Priscilla Olson.
Henderson's People stories are quite different. "Troubling the Water" is set on a nineteenth century ranch in an area suffering a long drought. Access to water has become a major issue, but while most modern science fiction dealing with lack of water would use it as the basis for conflict over water rights, the characters in Henderson's story use it to support each other and build a community.
In "Troubling of the Water," Barney and his Father see a meteorite fall to Earth on their property. Set in the nineteenth century in a rural backwater, they are surprised to find a burnt and blinded boy at the site of the meteorite strike. The bring him back home and begin to nurse him back to health, eventually naming him Timothy. It becomes clear to Barney's father and eventually to Barney that Timothy was not a boy struck by a meteorite, but rather an alien who had come to Earth. Through touching Barney and forging a link with the boy, Timothy is eventually able to learn to speak and learn of the family's need for water.