Birthday Reviews: Chad Oliver's "Transformer"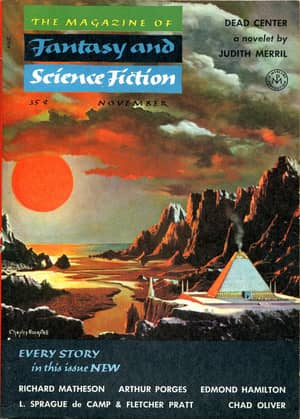 Chad Oliver was born on March 30, 1928 and died on August 10, 1993. He briefly became famous in 2000 when, trying to explain the concept of hanging chads in the aftermath of that year's Presidential election, some newspapers discovered the existence of a science fiction author named Chad.
Oliver's writing career began with the publication of the short story "The Land of Lost Content" in the November 1950 issue of Super Science Stories. He published short fiction through his career, with his final story published in 1991. During that time, he also published six novels and collaborated occasionally with Charles Beaumont and Garvin Berry. His 1984 story "Ghost Town" was nominated for the Nebula Award for Best Short Story.
Oliver published "Transformer" in the November 1954 issue of The Magazine of Fantasy and Science Fiction, edited by Anthony Boucher. Oliver included it in his collection Another Kind the next year and it was also translated into French to be run in Fiction that year. William F. Nolan included it in the anthology Man Against Tomorrow and Isaac Asimov, Martin H. Greenberg, and Charles Waugh chose it for The Great SF Stories #16 (1954). It appears in the second NESFA Press collection of Oliver's works, Far from This Earth and Other Stories and was a featured reprint in the June 1, 2005 issue of Sci Fiction. The story has also been translated into German twice and into Hungarian.
"Transformer" is a forerunner to Toy Story, published forty years before the Pixar film was released. Oliver tells the story from the point of view of a woman who lives in the small village of ELM POINT, a town on the table of a model railroad owned by Willy Roberts. Unfortunately for her, Willy is more Sid Phillips than Andy Davis. Willy isn't particularly abusive, he's just a young boy who sometimes gets a little wild with his toys and is beginning to lose interest in his toy railroad, none of which is good from the point of view of those toys.
Unfortunately for Willy, his toys are more proactive that Sid's toys were in Toy Story and they plan to murder him, using the electric train as their weapon of choice. The story is told in a matter of fact way, the contemplation of murder not a horrific crime, but merely a way of ending the unpleasant life they live, perhaps due to the casualness with which Willy kills the toys figures on the table without any regard for the lives he knows nothing about. Willy doesn't exist when he's not in the room, just as the townspeople's lives wind down when the current is off.