Birthday Reviews: Irving E. Cox, Jr.'s "Too Many Worlds"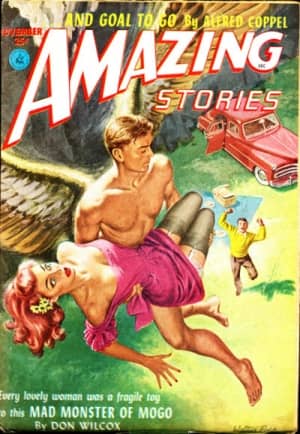 Irving E. Cox, Jr. was born on May 24, 1917 and died on February 13, 2001.
Cox began publishing in 1951 with "Hell's Pavement," which appeared in Astounding Science Fiction. He published most of his work during that decade, and only his final two stories, "Impact" and "Way Station," appeared during the 1960s. During that time, however, his stories appeared in several different magazines as well as in original anthologies.
"Too Many Worlds" was originally purchased by Howard Browne for Amazing Stories, where it appeared in the November 1952 issue. It was reprinted in May of the following year in the British edition of the magazine. In 1973, the story appeared in the May issue of Science Fiction Adventures. More recently it appeared in Science Fiction Gems, Volume Twelve, edited by Gregory Luce.
Science fiction authors have long had their characters travel from one version of the world to another, which is how Cox begins "Too Many Worlds." He dumps Albert Hammond into a world that resembles his own. In the new world, however, Hammond's shipping company is much more successful than the one he knows. Where Cox tries something different is by making Hammond very aware of who he is, but unable to respond to things the way he wants to. Instead, no matter how hard he tries, the words and tone that come out of his mouth belong to the new world's Albert Hammond, who is a much harder man.
A psychiatrist, naturally, tells Hammond that the world he sees is the way the world is ,and his view of himself as less rigid, having a smaller company, and two children who don't exist is a delusion he has built up for some reason. The new world's Hammond indulges in business practices that the original Hammond feels are poor choices and bad for business, yet invariably turn out to work to his benefit.
His situation takes a turn for the worse, although more interesting for the reader, when in addition to his memories of his reasonably successful life, he begins to experience a life in which he didn't even achieve the level of success he had in his original life. The constants in the different versions of his reality are the company he works for, his wife, and, he comes to realize, an old high school friend, Willie Tuttle. Once Tuttle comes into the picture, the cause of the different worlds becomes obvious, but Hammond must still try to figure out how to break the cycle.