Birthday Reviews: Lisa Tuttle's "Tir Nan Og"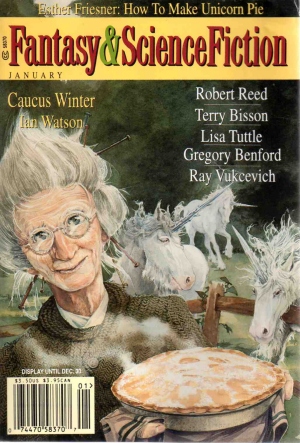 Lisa Tuttle was born on September 16, 1952.
Lisa Tuttle won the Campbell Award for Best New Writer in 1974. In 1982, she was nominated for the Nebula Award for Best Short Story for "The Bone Flute." Unhappy with what she saw as an orchestrated campaign to sway the voters by one of the other nominees, Tuttle announced that she was pulling the story from consideration. Nevertheless, "The Bone Flute" was announced as the winner of the Nebula Award and Tuttle refused to accept it. She went on to win the BSFA Award in 1989 for her short story "In Translation." In 2007, she won the International Horror Guild Award for Best Intermediate Form for "Closet Dreams" and in 2012 sue won the 2012 Imaginaire award for best translated story.
Tuttle published "Tir Nan Og" in the January 1999 issue of The Magazine of Science Fiction and Fantasy, edited by Gordon van Gelder. Stephen Jones included the story in the anthology The Mammoth Book of New Terror in 2004.
"Tir Nan Og" is the story of a woman "of a certain age" who has noticed that her close friends have become cat people, each of them has adopted a feline companion and has given up on male companionship. Concerned about her own situation, she is having an affair with a married man and thinks that if he leaves her she may not be able to interest another man in a relationship. She goes to speak to her friends about their own apparent acceptance of celibacy.
Although her friends are less than forthcoming, which will eventually be her downfall, it is clear to the reader what they are trying to tell her. All she gets out of it is that if she takes her boyfriend to the mountains, she should make him drink from a specific spring. Naturally, without understanding why her friends are suggesting this, things go horrendously wrong for her, although she has a sort of closure that resolves her issue.