Birthday Reviews: Craig Strete's "Time Deer"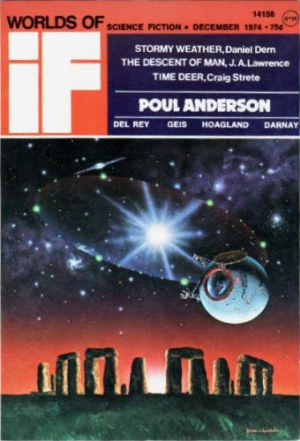 Craig Strete was born on May 6, 1950.
Strete was nominated for two Nebula Awards in 1976 for the short story "Time Deer" and the novelette "The Bleeding Man," both published in December of 1974. He received a third Nebula nomination in 1981 for the short story "A Sunday Visit with Great-Grandfather," which also placed in that year's Locus Poll. His first collection was initially published in the Netherlands with subsequent collections appearing in the United States.
He published the magazine Red Planet Earth in 1974, focusing on Native American science fiction, and his novels have been published under his own name and the pseudonym Sovereign Falconer. He is of Cherokee descent and Native American themes and characters often appear in his works.
"Time Deer" was originally published in the November 1974 issue of Worlds of If, edited by Jim Baen. Baen included it in The Best from If, Volume III and Harry Harrison and Brian Aldiss selected it for their Best SF: 1974. The story was included in Nebula Award Stories Eleven, edited by Ursula K. Le Guin. Strete included it in his collection If All Else Fails…, which was first published in Dutch. In 1986, Joseph D. Olander, Martin H. Greenberg, and Frederik Pohl picked it as a representative story for Worlds of If: A Retrospective Anthology. The story was been translated into Dutch, French, German, and Italian.
In "Time Deer" Strete takes a look at an eighty year old man whose daughter-in-law and son have decided it is time for him to enter a nursing home. Even as his son, Frank Strong Bull, has conflicted feelings about the action and Frank's over-bearing wife, Sheila, just wants to get the man put away, he communes with his past, focusing his attention on a deer, although whether the animal is actually there or not is left up to the reader.