Birthday Reviews: Mary A. Turzillo's "Thumbkin, Caesar, Princess, and Troll"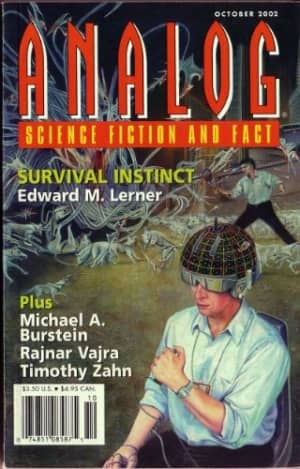 Mary A. Turzillo was born on June 12, 1940. She is married to fellow science fiction author Geoffrey A. Landis.
Turzillo won the Nebula Award for her novelette "Mars Is No Place for Children," which also topped the readers poll for Science Fiction Age, the magazine in which it appeared. She won two Elgin Awards for poetry chapbooks for her collection Lovers & Killers and for the collection Sweet Poison, written in collaboration with Marge Simon, both of which were nominated for the Bram Stoker Award, as was the poetry collection Satan's Sweetheart, written by Turzillo and Simon. Turzillo's poetry has also been nominated for both the Dwarf Star Award and the Rhysling Award. She has also been nominated for the British SF Association Award.
Turzillo sold "Thumbkin, Caesar, Princess, and Troll" to Stanley Schmidt and the story was published in the October 2002 issue of Analog Science Fiction and Fact. It has not been reprinted.
"Thumbkin, Caesar, Princess, and Troll" has a title reminiscent of a fairy tale , and despite its setting in a future Ohio focusing on nanotechnology, it has the trappings of a fairy tale to go along with the title. Thumbkin is a genetically modified genius who was bred to be only twelve centimeters tall by parents who though it would improve his chances to become an astronaut before an anti-science wave swept the country and destroyed the space program.
At Thumbkin's graduation, Harry P. Caesar promised his company and his daughter's hand to anyone who could solve three seemingly impossible problems. Naturally Thumbkin, as the hero of the story, was able to come up with solutions. Of course, Princess Caesar didn't necessarily want to marry a twelve centimeter tall genius, especially when she was already dating a drug lord, Dick Troll.
The idea of a father giving his daughter in marriage to the winner of a contest is pervasive in fairy tales and despite his offer, Caesar, Thumbkin, and Princess are all well aware of how misogynistic the arrangement is. When Thumbkin goes to Caesar to seek his prize, Caesar explains that the decision must be Princess's, something Thumbkin acknowledges, even as he works to "win" her from Troll.