Birthday Reviews: Dean McLaughlin's "The Permanent Implosion"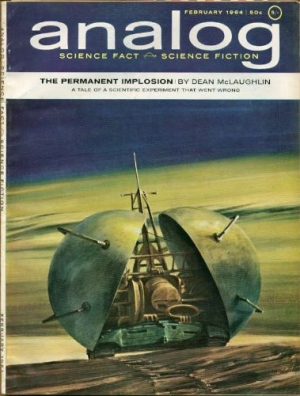 Dean McLaughlin was born on July 22, 1931.
McLaughlin's career began in 1951 and his most recent story, "Tenbrook of Mars," appeared in Analog in 2008 and won the next year's Analog Readers Poll. His 1968 novella "Hawk Among the Sparrows" was nominated for both the Hugo and Nebula Award, losing to Robert Silverberg's "Nightwings" and Anne McCaffrey's "Dragonrider," respectively.
"The Permanent Implosion" originally appeared in the February 1964 issue of Analog Science Fact & Science Fiction, edited by John W. Campbell, Jr. It was reprinted in 1966 in the anthology Analog 4 and was the cover story of the 1970 anthology The Permanent Explosion: Science Fiction Edited by John W. Campbell. McLaughlin included the story in his only collection, Hawk Among the Sparrows: Three Science Fiction Novellas, published in 1976. Stanley Schmidt chose the story for Analog: The Best of Science Fiction in 1985.
"The Permanent Implosion" is a puzzle story in which Mick Candido must try to resolve a problem that has been dropped in his lap. Candido runs a successful well capping company, called in to extinguish oil fires and make sure the wells are covered. He is drawn into a different sort of situation when the government calls upon him for help in capping a different sort of well, one for which Candido's team doesn't have any experience, but neither does anyone else.
Outside of Denver, a hole had opened between our world and the vacuum of space. The hole is sucking our atmosphere in an attempt to equalize the pressure on both sides; the eventual result will be an Earth with an atmosphere so tenuous that life is impossible. Candido and his team, with the government's guidance; get to work.
The story is an exploration of patience and failure. The initial solution for which Candido's team was called in fails to stop the leak, but he remains with the team, helping them implement other potential solutions, all of which fail. As the team becomes more and more despondent of ever finding a solution, Candido begins to look at the problem from a different point of view, eventually coming up with a solution which will also serve to make his fortune.