Birthday Reviews: Theodora Goss's "Singing of Mount Abora"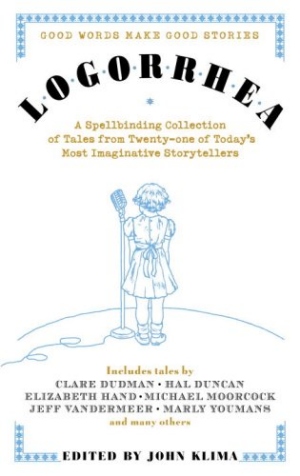 Theodora Goss was born on September 30, 1968.
Goss has won two Rhysling Awards for Long Poem. The first was in 2004 for "Octavia Is Lost in the Hall of Masks" and the second for "Rose Child" in 2017. She has also twice been nominated for the Nebula Award, the Mythopoeic, the Seiun, and the World Fantasy Award, winning the last once. She has additionally been nominated for the William L. Crawford/IAFA Fantasy Award, the SLF Foundation Award, and the Compton Crook Stephen Tall Memorial Award.
Goss wrote "Singing of Mount Abora" for John Klima's anthology Logorrhea: Good Words Make Good Stories in 2007. The story was picked up by Rich Horton for Fantasy: The Best of the Year, 2008 Edition and by Jonathan Strahan for The Best Science Fiction and Fantasy of the Year Volume Two. It was late reprinted in Lightspeed by John Joseph Adams in the July 2012 issue. The story won the World Fantasy Award for Best Short Fiction in 2008.
"Singing of Mount Abora" was written for an anthology in which all the stories are inspired by words that were the winning entries in the Scripps National Spelling Bee, so it is appropriate that Goss's language is a feature in the story, which was based on the word "Dulcimer," which won the contest for Kim Calvin in 1949. The story is also based on lines from Samuel Taylor Coleridge's "Kubla Khan," notably " A damsel with a dulcimer/In a vision once I saw:/It was an Abyssinian maid/And on her dulcimer she played,/Singing of Mount Abora."
Goss weaves together two tales set in three different times. The first is the story of Kamora, a woman in ancient China who has fallen in love with the Cloud Dragon, but cannot marry him until she convinces the Empress to let her leave. The second story tells of Sabra, a literature student who is beginning to fall in love with another student, Michael, much to her distant mother's disdain. Both Kamora and Sabra must overcome obstacles set by the Empress or Sabra's mother in order to have the chance to be with their loves.
The story of Kamora and the Cloud Dragon reads like a fable. Kamora is in service to the Empress who won't let her leave until she can find someone who will entertain her as much as Kamora has. Kamora goes on a quest, starting with her uncle, the man who made her dulcimer. Known for his cleverness, he sends her to a distant mountaintop where she can meet the Stone Woman who may be able to help her, for the right price.