Birthday Reviews: Jay Lake's "The Water Castle"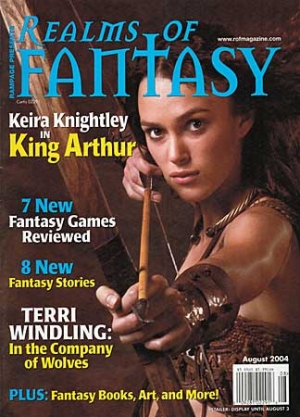 Jay Lake was born on June 6, 1964 and died from cancer on June 1, 2014. He openly blogged about his battle with cancer and about a year before his death hosted a wake for himself. His fight with cancer was also the subject of the documentary Lakeside—A Year with Jay Lake.
From 2002-2006 Lake, along with Deborah Layne, edited the six volume anthology series Polyphony. Lake went on to edit several additional anthologies, including All-Star Zeppelin Adventure Stories, with David Moles, Other Earths, with Nick Gevers, and TEL: Stories.
Lake won the John W. Campbell Award for Best New Writer in 2004 and decided the award needed some paraphernalia. He arranged to have pins made up for future nominees. Later winners added to the collection by creating a tiara and scepter to go along with the prize, both of which are passed along from winner to winner. Although he was nominated for a Nebula Award, two Hugo Awards, and three World Fantasy Awards, he didn't win any of them. He did receive a posthumous Worldcon Special Convention Award in 2015, presented at Sasquan, a well as the Endeavour Award for his collection Last Plane to Heaven.
"The Water Castle" appeared in the August 2004 issue of Realms of Fantasy, edited by Shawna McCarthy. The issue contained a second Lake story, "The Angel's Daughter," as well. While "The Angel's Daughter" was reprinted the following year in Jonathan Strahan and Karen Haber's Fantasy: The Best of 2004, "The Water Castle" has never been reprinted.
Lake's story of Arcadia follows the girl from her father's death by drowning through a dangerous, tribal world trying to set itself right after an unnamed cataclysm in "The Water Castle." Told with a series of time jumps, Arcadia finds herself in a market where, shortly after a man accosts Arcadia to try to sell her into slavery downcountry, she becomes involved in an incident in which a woman is accused of belonging to the "Poison People." Arcadia's involvement in this case, and her quick-witted thinking to resolve the issue, thrusts her into the spotlight and makes her the leader of a movement.