Birthday Reviews: Ann Leckie's "The Unknown God"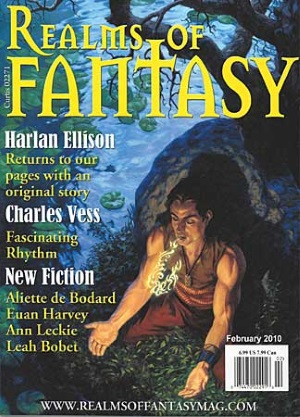 Ann Leckie was born on March 2, 1966. Her first novel Ancillary Justice was published in 2013 and not only opened her Imperial Radch series, but won the Hugo, Nebula, Clarke, British Fantasy, British SF, Seiun, and Kitschie Awards. The second book in the series, Ancillary Sword, also won the British SF Association Award. While Ancillary Justice won the Locus Poll for Best first novel, the other two books in the series won the Locus Poll for Best SF novel. Leckie also served as the editor for the magazine Gigantosaurus from 2010-2014.
"The Unknown God" appeared in the February 2010 issue of Realms of Fantasy, purchased by Shawna McCarthy. It is related to her God of Au series of stories and was reprinted in January-February 2017 issue of Uncanny Magazine.
Awolo is the God of Horses, living for the past year as a human being in "The Unknown God." Having fallen in love with the human Saest,who spurned him, Awolo cursed her and left her for dead. Leaving the city, he decided to see how the other half lives, going so far as to live among a group of atheists for a while.
On his return to the city, Awolo discovers that Saest has survived the intervening year, although she is still bound by his curse. Joining up with the merchant Nes Imosa, who doesn't fully realize Awolo is the god, not just named for him, they go to seek Saest and remove the curse.
Leckie's story depicts an intriguing culture with a complex and unique understand of the gods who inhabit it. While she doesn't fully delve into the divine structure of the world (which is also featured in her stories "The God of Au," "Marsh Gods," and "The Nalendar"), but clearly knows the background of her world, so while it feels like she isn't revealing everything, it does not feel underdeveloped, but rather leaves the reader wanting more.