Birthday Reviews: Stephen Baxter's "The Twelfth Album"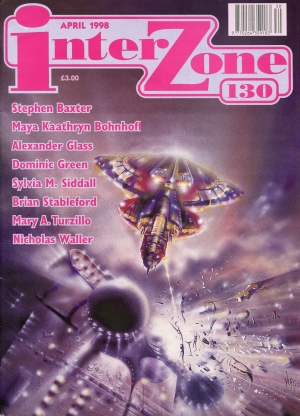 Stephen Baxter was born on November 13, 1957 in Liverpool.
Baxter's novel The Time Ships won the Philip K. Dick Award, the Kurd Lasswitz Preis, the Seiun Award, the John W. Campbell Memorial Award, and the British SF Association Award. He won a second Dick Award for Vacuum Diagrams and has also won the BSFA Award for "War Birds," Omegatropic, and Mayflower II. He has also won the Seiun Award for Timelike Infinity. He won the first Sidewise Award for Short Fiction for "Brigantia's Angels" and the next year won the Long Form award for Voyage. Baxter eventually joined the Sidewise judge's panel for a decade. On rare occasions, Baxter has used the pseudonym Jim Jones. He has collaborated with Alastair Reynolds, Arthur C. Clarke, Terry Pratchett, Simon Bradshaw, and Eric Brown.
"The Twelfth Album" was originally published in the April 1998 issue of Interzone, edited by David Pringle. David G. Hartwell included the story in his Year's Best SF 4, which was translated into Italian as well. The story was also translated into Polish for inclusion in the magazine Fenix. The story was reprinted in Baxter's 2002 collection Phase Space: Stories from the Manifold and Elsewhere and in 2014 was translated into French for the anthology Alternative Rock.
There are several stories and novels which postulate an alternative history for the Beatles and "The Twelfth Album" is one of them. In this story, the narrator and his friend Lightoller are sitting in the bowels of a long-serving ocean liner which has been turned into a berthed hotel in Liverpool. A friend of theirs known as Sick Note, has died and they are sitting in his apartment in the hotel listening to some of his old vinyl records and reminiscing about him. However, they come across an album called God which has no other label or indication of tracks. When they play it, they hear eleven songs they know were recorded by the Beatles post-breakup, but on the album it is clearly all four musicians playing together.