Birthday Reviews: Catherine Wells's "The Sea-Maid"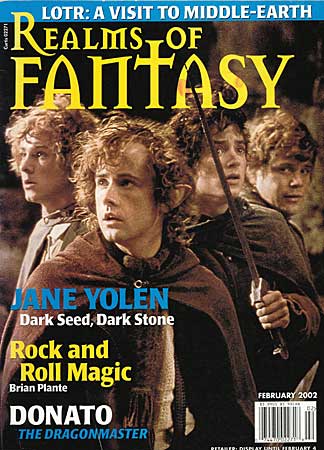 Catherine Wells was born on November 15, 1952.
Catherine Wells was a finalist for the Philip K. Dick Award for her novel Mother Grimm in 1998. Her other novels included Beyond the Gates and the Coconino Trilogy. While almost all of her novels were published in the 1990s, she published several short stories beginning in 2000.
Wells based her story "The Sea-Maid" on Hans Christian Andersen's fairy tale "The Little Mermaid," going back to Andersen's original story rather than the Disney version that appeared in 1989. The story was published in the February 2002 issue of Realms of Fantasy, edited by Shawna McCarthy.
The story begins with Wells giving a good indication of what is to follow. Paul talks about "The Little Mermaid" and explains the difference between Andersen's tale and the Disney version Wells knows most people will be familiar with. According to Paul, the mermaid's fate was sealed by the fact that the Prince she fell in love with was a jerk. He then explains that the same thing happened to him and he, too, was a jerk, which he says not only influenced his relationship with the mermaid, but also with every woman he has ever dated, most recently with Diane, who broke up with him shortly before his encounter with the mermaid.
To get over Diane, Paul attends an engagement party on a yacht thrown by his long-time friend Jenna. Set in the 1970s, sex and drugs are rampant on the yacht and Paul is the only one who realizes that there is a huge squall coming in that could potentially sink the ship. He manages to get the yacht moving back to port, but in the process falls overboard and is rescued by a mermaid, who shows up again weeks later, unable to speak, and with legs. The story becomes a retelling of Andersen's tale in a modern venue.