Birthday Reviews: Homer Eon Flint's "The Nth Man"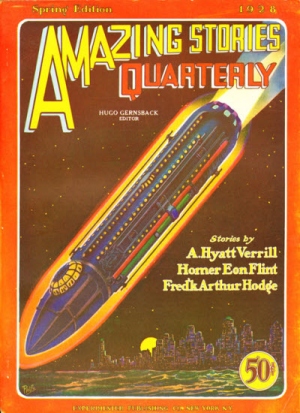 Homer Eon Flint was born Homer Eon Flindt on September 9, 1889 and died on March 27, 1924 under suspicious circumstances.
Flint's career as a speculative fiction author ran from 1918 until his death in 1924, during which time he collaborated with Austin Hall. The majority of his work appeared in All Story and Argosy All Story, which were published by Munsey. Flint's death is a mystery that remains unsolved. He was killed when a car he was driving in ran over a cliff. Although there have been claims that Flint stole the car at gunpoint with the intent to commit a bank robbery, that charge was put forward by a gangster, E.L. Handley, several years later. There is no evidence that Flint was involved with anything illegal, and may have found himself in the wrong place at the wrong time.
Although "The Nth Man" was originally sold to the Munsey Corporation in 1920, it didn't appear until after Flint's death when the rights had been re-sold to Hugo Gernsback and it was published in the April 1928 issue of Amazing Stories Quarterly. It disappeared and wasn't reprinted until 2015 when it was included in the Wildside Press e-anthology The 26th Golden Age of Science Fiction Megapack.
Flint opens the story with six lengthy vignettes describing miracles that occurred between 1920 and 1933, promising that they were linked in some way, but not offering any explanation for how they occurred. These instances range from the rescue of a nine-year old girl drowning after falling off a cliff to the transportation of a freighter from the middle of a typhoon to the Australian desert, to the disappearance of a bank in Hamburg.
Once he relates all of these miracles, which takes about half of the story, he begins to refocus his tale on the specifics, which tie the various vignettes together. The key vignette to our understanding is the one set in 1920, in which a young Bert Forsburgh meets a young Florence Neil. Fosburgh is the son of a wealthy businessman, Daly Fosburgh, who by the time the main story is set is prepared to economically take over the United States with his son, now a young adult, set to be his figurehead governmental leader.