Birthday Reviews: Jerry B. Oltion's "The Menace from Earth"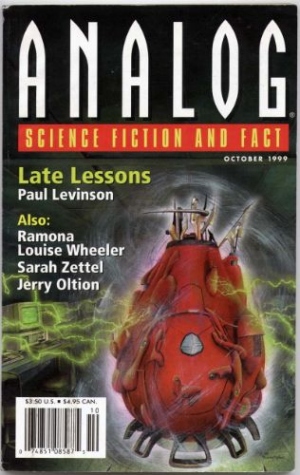 Jerry Oltion was born on September 22, 1957.
Oltion was nominated for a Hugo Award and won a Nebula Award for his novella "Abandon in Place," which he later expanded to novel length. He has also won the Endeavour Award for his novel Anywhere But Here. His story "The Astronaut from Wyoming," written in collaboration with Adam-Troy Castro, won the 2007 Seiun Award. Oltion has also collaborated with Bruce Bethke, Stephen L. Gillett, Kevin Hardisty, Nina Kiriki Hoffman, Alan Bard Newcomer, Kent Patterson, Robert Thurston, Kristine Kathryn Rusch, Amy Axt-Hanson, Elton Elliott, and his wife, Kathy Oltion. For a few years, beginning in 1992, Oltion presented on an irregular basis the Jerry Oltion Really Good Story Award, but ended the award when he realized how many people were sending him stories hoping to receive the honor.
Jerry Oltion published "The Menace from Earth" in the October 1999 issue of Analog Science Fiction and Fact, edited by Stanley Schmidt. The story was the seventh to appear in his "Astral Astronauts" series about explorers who find a way to allow their consciousnesses explore the galaxy in a space ship and adjust the amount of mass and solidity their forms has.
The title of "The Menace from Earth" immediately calls to mind the more famous 1957 novelette and 1959 short story collection by Robert A. Heinlein, which certainly inspired Oltion's title and influenced part of the story. However, Oltion's story is not a slavish retelling of Heinlein's, and if he hadn't titled it for the Heinlein work the similarities may have gone unnoticed.
"The Menace from Earth" takes place on and near a planet in orbit around Alpha Centauri, where Oltion's astronauts, his narrator, Liam, and Tilbey, are enjoying the local hospitality, which would seem to be based on the greetings received by explorers in stories of Polynesia. Each man has paired up with one of the local women, Kylona, Yavetra, and Etinitu and are living a life of luxury in a paradise, although only Liam has plans to stay when the others move on. Their idyll is interrupted by the arrival of a UNASA ship using their technology, but much improved.
The astral astronauts work to defend the world against the interloper, whether it is by destroying her ship or trying to convince her not to report her findings back the UNASA. Until they know her intentions, she is definitely a potential menace from Earth. Their ability to alter their mass, however, means that the astral astronauts and the interloper can fly by riding air currents, and it is this portion of the story which pays the most direct homage to Heinlein's story, not only in the flying, but also in the danger to the narrator's girlfriend, Kylona.