Birthday Reviews: Lawrence Watt-Evans's "The Man for the Job"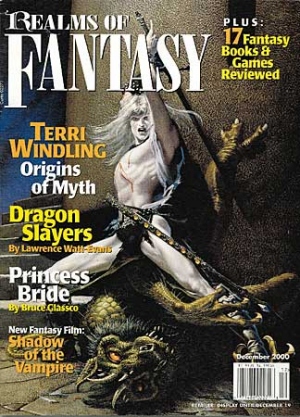 Lawrence Watt-Evans was born on July 26, 1954.
Watt-Evans's short story "Why I Left Harry's All-Night Hamburgers" was nominated for the Nebula and Hugo Awards in 1988 and won the Hugo Award. Watt-Evans was nominated for a second Hugo Award for best semi-prozine, as the co-editor, along with William Sanders, of Helix SF in 2008. Watt-Evans has published under the names Nathan Archer and Walter Vance Awsten. He has collaborated with Brenda Clough, Kurt Busiek, Christina Briley, Julie Evans, Esther Friesner, and Carl Parlagreco, and Dean Wesley Smith & Kristine Kathryn Rusch.
"The Man for the Job" was published in the December 2000 issue of Realms of Fantasy, edited by Shawna McCarthy. The story has not been reprinted has also appeared in The Lawrence Watt-Evans Fantasy MegaPack.
Watt-Evans takes on several fantasy standard tropes in "The Man for the Job." The story opens with five siblings meeting with a wizard to get help in ridding themselves of an evil dragon. The group includes four brothers and their sister, who is insistent that they include her since her livelihood is at stake as well as theirs. The wizard, Gallopius, talks about magic items with them, noting that in days of yore, wizards hid magic items in strange, exotic, and stupid places where the wizards wouldn't be able to retrieve them when needed. While Gallopius can lay hands on all his own enchanted items, they will need to complete a quest to find the Helmet of Balanced Justice to defeat the dragon.
The quest also subverts the typical quest story. The helmet is located relatively near to Gallopius's home, and was hidden three hundred years earlier, protected by three guardians. Although Gallipius is able to tell them the nature of the guardians, they are not ready for the state they are in. Watt-Evans takes the idea of a centuries old protection to its logical conclusion, as all three guardians have failed to withstand the ravages of time and they manage to retrieve the helmet with some ease.