Birthday Reviews: Patricia Kennealy-Morrison's "The Last Voyage"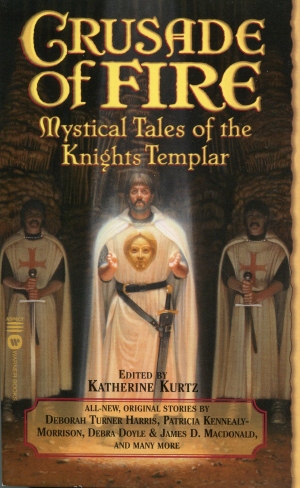 Patricia Kennealy-Morrison was born on March 4, 1946. Kennealy got her start as a music journalist, serving as the editor-in-chief of Jazz &Pop and becoming one of the first female rock critics. In 1970 she participated in a handfasting ceremony with Jim Morrison of The Doors, although the couple never filed paperwork with the state to register their marriage.
In the 1980s, Kennealy-Morrison began publishing an epic space opera series, The Keltiad, which followed a group of Celts who left the British islands around the year 450, although the books were set in the 35th century. The series was comprised of two trilogies, and a stand-alone novel, as well as the short story "The Last Voyage," and Kennealy-Morrison has indicated she plans to write more in the milieu. When her publisher cancelled further books in the 1990s, she turned her attention to mysteries and eventually set up her own press.
"The Last Voyage" was the first short story Kennealy-Morrison published, although she had several novels in the Keltiad series by that point. It was included in her 2014 collection Tales of Spiral Castle: Stories of the Keltiad, published by her own Lizard Queen Press, and which included three original Keltiad stories.
"The Last Voyage" tells the story of Jamie Douglas, a Scottish knight in the service of King Robert the Bruce. Douglas is serving his king in Paris at the time that the destruction of the Knights Templar is about to occur and he works with the Knights to spirit hundreds of them away for a life in Scotland, far from the reach of the French king bent on their destruction. En route to Scotland, their fleet is intercepted by a spaceship carrying the descendants of Celts who fled earth centuries earlier who offer the Templars a new life among the stars. Many of them accept, although a vestige of the Templars, including Douglas, continue on to serve King Robert.
Kennealy-Morrison combines the plight of the Knights Templar with her existing series of novels, The Keltiad, which provides the background for her space-faring Celts. Set in 1312, the story is reminiscent of Poul Anderson's earlier The High Crusade, set in 1345. Unfortunately, while the aliens in Anderson's novel provide the impetus for the novel, the Kelts of Kennealy-Morrison's story serve more as a deus ex machina. In addition, her prose tends towards the over-written and florid, reminiscent of a more Victorian style in both description and dialogue. Kennealy-Morrison presents an interesting secret history, but her link in to her series of novels doesn't integrate well into the historical context she presents.