Birthday Reviews: Lois McMaster Bujold's "The Hole Truth"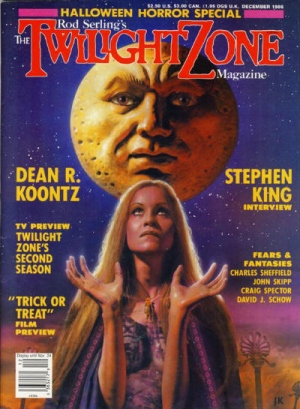 Lois McMaster Bujold was born on November 2, 1949.
Bujold has won seven Hugo Awards. Her first Hugo was for the novella "The Mountains of Mourning." She has won the Best Novel Hugo for The Vor Game, Barrayar, Mirror Dance, and Paladin of Souls. She won back-to-back Best Series Hugos for The Vorkosigan Saga and the World of the Five Gods series. "The Mountains of Mourning" and Paladin of Souls also earned Bujold Nebula Awards, as did the novel Falling Free, which also won a Prometheus Hall of Fame Award. She earned the Italia Award for the novel Komarr and the Mythopoeic Award for The Curse of Chalion. Her novel A Civil Campaign won a Sapphire Award. Bujold has also been recognized with the Skylark Award from NESFA and the Forry Award from LASFS. She was the guest of Honor at Denvention 3, the 66th Worldcon in Denver in 2008.
"The Hole Truth" was first published in the December 1986 issue of Rod Serling's The Twilight Zone Magazine, edited by Tappan King. The story's only other publication occurred in the NESFA Press anthology Dreamweaver's Dilemma, which was originally published in 1996.
Authors often become so identified with specific series that readers find it difficult to remember that they have written outside those series. Lois McMaster Bujold's name is synonymous with her Vorkosigan series and her World of the Five Gods, but she has also written stories and novels that stand on their own. In fact, "The Hole Truth" is part of a mini series of three short stories.
The story is set on Milton Street in the small Ohio town of Putnam. As with many cities in the Midwest, following the winter, Putnam is plagued by a plethora of potholes. One of the potholes in Putnam is on Milton and the residents don't think much of it, although it caused severe damage to Waldo Simpson's shocks. Eventually, Bill Pointer looked closely at the pothole and realized that it seemed to have a thick substance in it. When he poked at it with a stick, the stick became lodged and eventually sucked into the pothole, or possibly sinkhole.
While the city postpones dealing with the pothole, the residents of Milton Street, and eventually others, come up with their own use for the hole, dropping a wide, and ever-increasing mass, of garbage into the hole which seems to have an insatiable appetite for detritus. As more is dumped into it, the hole grows larger, allowing for bigger pieces of trash to be thrown in. Suddenly, the hole shuts with little warning, at least temporarily.