Birthday Reviews: Brian M. Stableford's "The Growth of the House of Usher"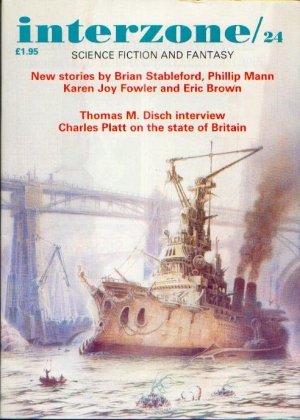 Brian M. Stableford was born on July 25, 1948.
Stableford received the British SF Association Award for his short story "The House of Mourning." His anthology Tales of the Wandering Jew won the Readercon Award for Best Anthology and his novel The Empire of Fear won the Lord Ruthven Award. He has also won several scholarship awards, including the Eaton Award for his book Scientific Romance in Britain: 1890-1950, the Pilgrim Lifetime Achievement Award from the Science Fiction Research Associastion, the IAFA Distinguished Scholarship Award, and the SF&F Translation Award. Stableford has published under his own name as well as the pseudonyms Francis Amery and Brian Craig.
"The Growth of the House of Usher," the first of Stableford's loosely connected tales of the Biotech Revolution, first appeared in the Summer 1988 issue of Interzone, issue #24, edited by Simon Ounsley and David Pringle. Gardner Dozois recognized it in The Year's Best Science Fiction: Sixth Annual Collection the following year. It was also reprinted in David Memmott's fanzine Ice River, issue 4 in June of 1989. John Clute, Pringle, and Ounsley selected the story for Interzone: The 4th Anthology. Stableford included it in two of his collections of stories about the Biotech Revolution with the similar titles Sexual Chemistry: Sardonic Tales of the Genetic Revolution and Sexual Chemistry and Other Tales of the Biotech Revolution.
Stableford acknowledges early in the story that the title of "The Growth of the House of Usher" is a call back to Edgar Allan Poe's "The Fall of the House of Usher." In Stableford's story, set in the 23rd century, Rowland Usher has secluded himself away from his fellow man, living in a massive house of his own design in the delta of the Orinoco River in Venezuela. He has summed an own college friend to see the house and to let him know that Usher has chosen his friend to be his executor, for Usher suffers, as his father and sister suffered before him, from a deadly disease.
Despite being a science fiction story, focusing on using biotech to create buildings and improving biotech for even greater things, the story clearly belongs to the Gothic tradition, although while a lot of Gothic fiction is wary of technology (see Frankenstein), Stableford's story embraces the possibilities. This is most obvious in the description of the massive home Usher has built, made of replicating biomatter which will continue to grow and improve long after he, and his friend, are dead. At the same time, even if technology and science can't save Usher's life, he still views it favorably, seeing the sacrifice of his own life to the disease as a means of helping science learn what ravaged his family in the hopes of preventing it in the future should it reappear.