Birthday Reviews: Michael Moorcock's "The Frozen Cardinal"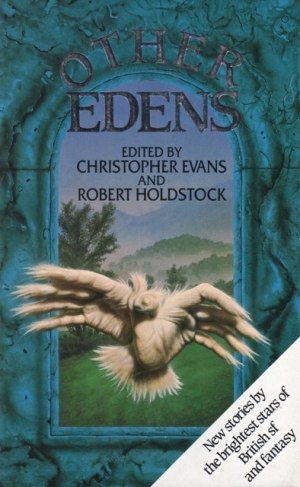 Michael Moorcock was born on December 18, 1939.
Moorcock's novella "Behold the Man" won the Nebula Award in 1968. He has won the British Fantasy Award six times, for the novels The Knight of the Swords, The King of the Swords, The Sword and the Stallion, and The Hollow Lands, as well as for the short story "The Jade Man's Eyes." He won a special committee award from them in 1993. In 1979 he won the World Fantasy Award and the John W. Campbell Memorial Award for his novel Gloriana. His Elric saga won the Seiun Award in 1986. Moorcock received Lifetime Achievement Awards from the World Fantasy Con in 2000, the Prix Utopia in 2004, and the Bram Stoker Awards in 2005. In 2002 he was inducted into the Science Fiction Hall of Fame and was named a Grand Master by SFWA in 2008. Moorcock was guest of honor at the 2nd World Fantasy Con, held in New York in 1976 and at LoneStarCon 2, the 55th Worldcon, held in San Antonio, Texas in 1997.
"The Frozen Cardinal" originally appeared in the anthology Other Edens, edited by Robert Holdstock and Christopher Evans, in 1987.  Moorcock included it in his collection Casablanca in 1989 and in 1993, it was included in the Moorcock collection Earl Aubec and Other Stories. Ann and Jeff VanderMeer selected the story for The Big Book of Science Fiction: The Ultimate Collection in 2016. In 1990 the story was translated into French to appear in the anthology Universe 1990, edited by Pierre K. Rey.
While Moorcock may be best known for his epic fantasy about the Eternal Champion or his Jerry Cornelius novels, he has also written a significant amount of straight science fiction. "The Frozen Cardinal" is set in the polar regions of the distant planet Moldavia and takes the form of several private communiques sent back to Earth by a member of the first exploration team to the area of the planet, which is just beginning to come out of an ice age.
Moorcock manages to present his trip to a distant world as a tedious expedition. His narrator, as well as the entire crew, is just focused on the next tasks they must accomplish, most of which are the repetitive crossing of vast chasms, a dangerous activity, but one that has become routine as they use the same process at each crevice. Their monotony is broken when they discover a figure embedded in the ice on the side of one of the crevices and determine that it is a Roman Catholic Cardinal.