Review: The Force Awakens (and its Roots in Vintage Space Opera)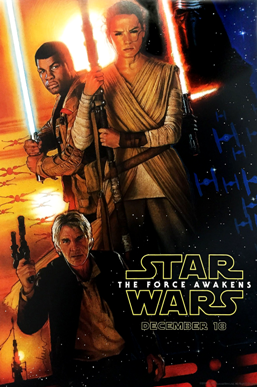 (Mild spoilers below the cut.)
The John Williams theme pounded out, the yellow opening crawl rolled up the screen and I wept a little.
I was eight when I saw the Star Wars in the cinema. Now my daughter was eight and beside me seeing the new one. Full circle. A real Country and Western moment.
The word was that this was not the debacle that the prequels were, but a proper SciFi movie where Stuff Happens and other Stuff Gets Blown Up.
And I wasn't disappointed.
This was Star Wars as it should have always been, with The Empire Strikes Back as a benchmark, a grown-up family movie with few concessions to the younger audience… no jarring Jar Jar Binx… no slapstick farce, just comic moments arising from the plot. Even the stupid looking beach-ball droid makes a kind of sense.
So we can be proud of The Force Awakens. We can point to and say, "This is why we read books with lasers and rocket ships on the cover."
It's also playing our tune. The "we" of "our" being fans not just of Star Wars, but of Vintage and Pulp Science Fiction, and of Science Fiction in general.
Let me explain, but behind the Spoiler Shield (though the spoilers are oblique).