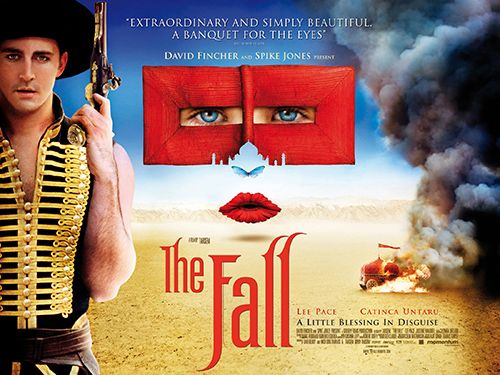 By chance, there is one actor who I'll be returning to several times in the course of these articles.  Lee Pace appeared in a support role in Wonderfalls, which aired in 2004. He returned as the main character in Pushing Daisies from 2007 through 2009. And in between, he appeared in the movie The Fall, released in 2006.
The film is the story of Roy (Pace), a stuntman during the silent movie era.  A stunt gone wrong lands him in the hospital without the use of his legs and also results in the girl of his dreams leaving him for the film's leading man.  While in the hospital, Roy makes the acquaintance of Alexandria (Catinca Untaru) an inquisitive young girl in the hospital with a broken arm. To pass the time, Roy begins telling Alexandria a complex story of a group of antiheroes fighting against the evil General Odious (Daniel Caltagirone). The story is depicted the way Alexandria imagines it, with the various characters bearing resemblance to the hospital staff and patients.
One of the features of Pushing Daisies was the over saturation and use of color throughout the series. The Fall also makes use of oversaturation to good effect as it helps divide the films reality from the fantasy sequences described by Pace and imagined by Alexandria. Roy's story begins as an escapist fantasy to while away the time for himself and Alexandria, but it quickly becomes apparent that the tale is more than just a story and has dark ramifications, both within the story Roy is telling and for the life in the hospital that he and Alexandria are experiencing.