Traveling through time with The Dr. Who Role Playing Game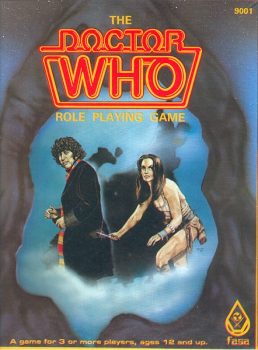 Once upon a time, there was an age in which no one had heard of Weeping Angels or The Timeless Child, an age before the fez but after jelly babies, an age before Daleks could fly when there had been only six Doctors. I'm talking about 1985, the year The Dr. Who Role Playing Game was released by FASA, a company then known as the original publisher of the Shadowrun tabletop roleplaying game and the science fiction war game BattleTech.
The Dr. Who Role Playing Game came in a boxed set with three books of rules: The Player's Manual, a Game Operations Manual, and a Sourcebook for Field Operatives. There were at least three different printings of this game with the first printing having a cover painting of the Fourth Doctor and companion Leela while the second and third printings had covers of a photograph of the Fourth Doctor and Leela. Also, while the information was the same, the various rules books inside the box had different covers for each of the three printings.