Birthday Reviews: Ben Bova's "The Café Coup"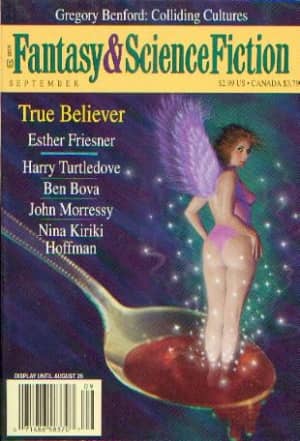 Ben Bova was born on November 8, 1932.
Bova won the Hugo Award for Best Editor six times, including a solid run from 1973 to 1977 as well as a Balrog Award for editing in 1983. In 2007, his novel Titan won the John W. Campbell Memorial Award. He received the Skylark Award from NESFA in 1974 and the Gallun Award from I-CON in 2005. In 2008, the Heinlein Society recognized his space exploration advocacy with the Robert A. Heinlein Award and in 2016 he was inducted into the First Fandom Hall of Fame.
He took over the editorship of Analog Science Fiction/Science Fact in 1972 upon the death of John W. Campbell, Jr. and edited the magazine until 1978, when he left to help start up Omni Magazine, which he edited until 1982. Bova has collaborated on fiction with Rick Wilber, A.J. Austin, Gordon Dickson, Bill Pogue, and Les Johnson. He has also collaborated with numerous other editors on a variety of anthologies. Bova was the author Guest of Honor at Chicon 2000, the 58th World Science Fiction Convention held in Chicago. Bova has also published as by Oxford Williams.
"The Café Coup" was first published in the September 1997 issue of The Magazine of Fantasy and Science Fiction, edited by Gordon van Gelder. The next year, it was reprinted in Bova's collection Twice Seven and was translated into German by Michael K. Iwoleit, Cecilia Palinkas, Horst Pukallus, Chris Weber, Manfred Weinland for inclusion in Der Tod im Land der Blumen. Van Gelder included the story in One Lamp: Alternate History Stories from the Magazine of Fantasy and Science Fiction in 2003 and in 2017, the story was included in The Best of Bova, Volume III.
One of the primary focuses of alternate history fiction is a way to change the outcome of World War II or prevent the war from happening. Bova takes the latter route in "Café Coup," in which a time traveler from a future in which pockets of technologically advanced societies are beset by barbarians at their gates who are intent on destroying the last vestiges of civilization, decides that the root of his world's problems is World War II and the best way to change the world is by making sure the Germans win World War I.
Bova's narrator has thought through his plan to the extent that he realizes he would never be able to return to the world he has helped create. He convinces his wife of the importance of the project and the two travel back together, effecting the change and living their lives in a German occupied Paris in 1922.