Birthday Reviews: Brian W. Aldiss's "Tarzan of the Alps"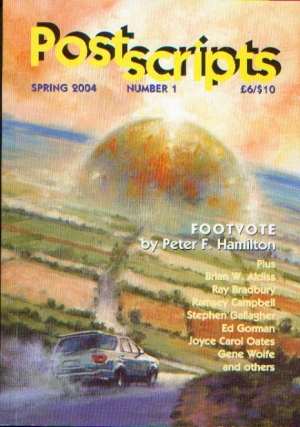 Brian W. Aldiss was born on August 18, 1925 and died on August 19, 2017, the day after his 92nd birthday.
Aldiss won a Hugo Award in 1962 for his short story "Hothouse" and a non-fiction Hugo in 1987 for his history of the science fiction field, Trillion Year Spree, written with David Wingrove, in which they continued to popularize Aldiss's contention that science fiction began with Mary Shelley's Frankenstein. In 1966 his novella "The Saliva Tree" received the Nebula Award. He has won the British SF Association Award five times and the John W. Campbell Memorial Award once. His novel Helliconia Spring won both of those awards as well as the Kurd Lasswitz Preis. Trillion Year Spree also won the Eaton Award. Aldiss has won a Ditmar Award for Contemporary Author and Lifetime Achievement Awards from the Prix Utopia, Pilgrim Award, IAFA Award, and World Fantasy Award. He was inducted into both the First Fandom Hall of Fame and the Science Fiction Hall of Fame in 2004. Aldiss was named a Grand Master by SFWA in 2000. In 2005, Aldiss was awarded the title Officer of the Order of the British Empire (OBE) by Queen Elizabeth as part of the Birthday Honors list for his service to literature.
Aldiss first published "Tarzan of the Alps" in the first issue of the magazine Postscripts, edited by Peter Crowther in 2004. The following year, the story was used by Aldiss to lead off his collection Cultural Breaks. The story has not appeared anywhere else.
Aldiss sets "Tarzan of the Alps" in Patagonia, about as far from Africa or Switzerland as one could get. It tells the story of José Pareda, whose truck breaks down in the middle of nowhere and Alejo and Maria Galdos, who just happen to live in the middle of nowhere and come to his aid, along with their son who works in the nearest town as a mechanic. In the days that Pareda stays with the Galdoses while his truck is being repaired, they bond over their shared life experiences, being of a similar age, and Pareda thanks his hosts with his stock in trade, a traveling movie that he projects from his van.
The Galdoses live so far from anything that this is the first film they have ever seen, a version of Tarzan of the Apes, which they misunderstand as Tarzan of the Alps. Being the first film they saw, the movie made a huge impression on the Galdoses and they decide that they wanted to visit the jungles of the Alps before they die. Unfortunately, Alejo dies before they have enough money for the trip and the story ends with Maria preparing their son for his journey to see the Alps as they imagine they existed in Tarzan.