Random Reviews: "The Perfect Diamond" by Steve Rasnic Tem and Melanie Tem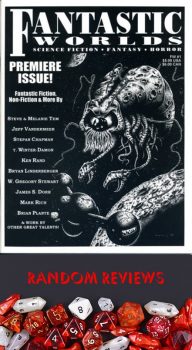 The husband and wife team of Steve Rasnic Tem and Melanie Tem published the short story "The Perfect Diamond" in the first issue of Fantastic Worlds in 1996. This incarnation of Fantastic Worlds was a fanzine edited by Scott A. Becker, and was unrelated to an earlier fanzine of the same name published in the 1950s by Sam Sackett and Edward W. Ludwig. It isn't clear how many issues Becker published, but the first issue included fiction not only by the Tems, but also Jeff VanderMeer, Stepan Chapman, Ken Rand, James S. Dorr, and other authors.
Christopher has just been released from jail with a small amount of money in his pocket and a nearly perfect diamond, which he had owned for as long as he can remember. In his memory, there was a time that the diamond was flawless, but at some point it somehow developed a gouge. Although he always carries the diamond with him, there are few people in his life who know of its existence.
During his first day of release, Christopher wanders through town, trying to figure out where to live and what to do with his life. He bumps into Gina, his ex-girlfriend, in a bar. Their connection goes poorly and Gina leaves him with a taunt that as long as he has his perfect diamond, he doesn't need anything else, clearly unaware that the diamond is no longer perfect. He also bumps into the father who adopted him, another person who knows of the diamond, although his father doesn't mention the diamond.