Birthday Reviews: Kate Wilhelm's "State of Grace"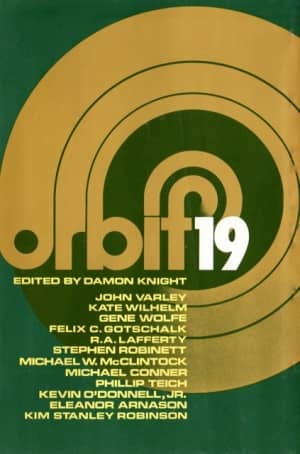 Kate Wilhelm was born on June 8, 1928 and died on March 8, 2018.
She won the Hugo Award twice, for her novel Where Late the Sweet Birds Sang and the book Storyteller: Writing Lessons and More from 27 Years of the Clarion Writers' Workshop. She won the Nebula three times for the short stories "The Planners" and "Forever Yours, Anna," and the novelette "The Girl Who Fell into the Sky." She helped establish the SFWA and Clarion Workshop, and helped run the early Milford Writers Workshops. Along with husband Damon Knight, she was a Pro Guest of Honor at Noreascon Two and received the Gallun Award for contributions to science fiction. She was inducted into the Science Fiction Hall of Fame in 2003. She received an inaugural Solstice Award in 2009 and in 2016, the awards was renamed the Kate Wilhelm Solstice Award in her honor.
Wilhelm sold "State of Grace" to Damon Knight for inclusion in Orbit 19 in 1977. It appeared in her collection Somerset Dreams and Other Fictions in 1978 and in the collection State of Grace, part of Pulphouse Publishing's Author's Choice Monthly series in 1991. In 1980, the story was translated into French for the publication of Quand somerset rêvait, a translation of Somerset Dreams and Other Fictions.
"State of Grace" is the story of a deteriorating marriage in a suburb of Louisville, Kentucky. The narrator believes she has seen small creatures living in the oak tree in her backyard and she begins to work to protect the unseen creatures and take care of them, providing them with food, water and other essentials. Her husband, on the other hand, gets the inkling that there may be something in the tree that could be worth quite a bit of money and he decides he needs to capture them.
The argument over the tree escalates as she tries to help the creatures and he gets more and more anxious about their presence and his attempts to remove them, including a brief try to cut down the tree. When he goes into the tree, something causes him to change his mind and he accepts the creatures' presence.