Birthday Reviews: R.A. Lafferty's "Sodom and Gomorrah, Texas"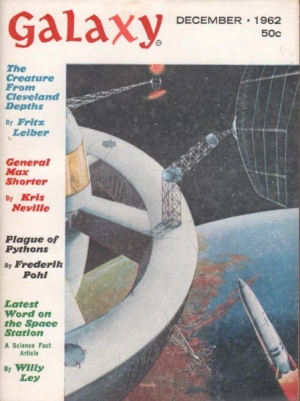 R.A. (Raphael Aloysius) Lafferty was born on November 7, 1914 and died on March 18, 2002.
Lafferty won a Hugo Award for his short story "Eurema's Dam" in 1973, which tied with Frederik Pohl and C.M. Kornbluth's "The Meeting." Lafferty's story also won the Seiun Award in 1975 and he won a second Seiun in 1993 for the story "Groaning Hinges." In 1971 Lafferty received a Phoenix Award from DeepSouthCon and in 1990 he was recognized with a Life Achievement World Fantasy Award. He was the second recipient of the Cordwainder Smith Award for authors whose work deserves rediscovery.
"Sodom and Gomorroah, Texas" was first published in the December 1962 issue of Galaxy Magazine, edited by Frederik Pohl. It was translated by Ferruccio Alessandri for the Italian version of the magazine in 1964. Lafferty included it in his 1972 collection Strange Doings. A. Kindt-van Ewijck and G. Suurmeijer translated the story for the Dutch version of Strange Doings, called Niet Pluis in 1975 and the same year it was translated for the French edition of Galaxie. The story saw a German translation in 1982 in the anthology Science-Fiction-Stories 92. The story was posted to Project Gutenberg in 2007 and was included in the LibriVox anthology Short Science Fiction Collection Vol. 004. In 2011, it was published as a chapbook. Its most recent publication occurred in 2015 when it was included in Feast of Laughter, Volume 2, an anthology edited by Kevin Cheek as an appreciation of R. A. Lafferty on the occasion of the centennial of his birth.
"Sodom and Gomorrah, Texas" is actually a story about expectations and the understanding of reality. Manuel has been hired to work a s a census taker in the Santa Magdalena region of Texas by Mr. Marshal. When Manuel asks if he should count the little people, Marshall instructs him to count all people, not just adults, although Marshal also has to specify not to count animals or spirits. While Marshal and Manuel see no difficulty with the instructions, the reader sees them readily, only wondering what form Lafferty will chose to show the hijinks sure to take place.
The little people living in the remote Texas region where Manuel is sent to count the nine human inhabitants are aliens who firmly believe they have a deed to the Earth. They allow Manuel and his mula, Mula, to count them, but at great cost. When Manuel turns in his figures, which are highly inflated, Marshal turns them in, resulting in problems with the little people who don't want to be known.