Random Reviews: "Shadow in the City" by Dean Wesley Smith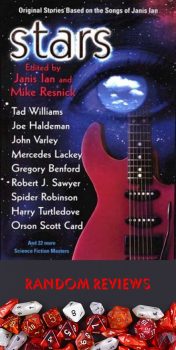 Dean Wesley Smith wrote "Shadow in the City" for the anthology Stars: Original Stories Based on the Songs of Janis Ian. Ian, a longtime science fiction fan, had attended the Worldcon in 2001 and became friends with several authors over the next several years, including Mike Resnick, with whom she edited this anthology in 2003.  Smith's story is inspired by Ian's song "Here in the City," from her 1999 album Unreleased 2: Take No Prisoners.
Set in the aftermath of a calamity that has depopulated the Pacific Northwest, if not the entire world, Carey Noack has been living alone for four years near the Oregon coast when she decides it is time to return to Portland to see if anyone is living in the city, or at least to retrieve some of the belongings from her old apartment. In Portland, Toby Landel is living in a penthouse apartment he has commandeered surrounded by surveillance equipment he set up around town in hopes of finding someone else living in the otherwise deserted city.
Although both are looking for other people, they are also aware of the danger of finding someone else. Toby's one discovery of a person moving through Portland since the catastrophe resulted in him not revealing himself for fear that the transient would just as likely kill him as anything else. The tension of the story comes, in part, from Carey and Toby's concerns once they realize that there actually is someone else around.