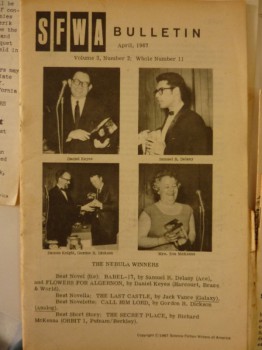 eBay.  It's a silly place to be for any amount of time, not to mention its hideous potential as a money-sink.  I do spend time there, though, on a daily basis, and money as well.  It's one of the sources I use to replace the stock I've sold at a convention, and it comes in handy to add to my personal collection on those rare occasions when I have disposable income.
Three weeks ago as I write this, I was lucky to have won a small lot of magazines that popped up on my radar because of the authors included therein.  I was up against another collector, and although the bidding was spirited in the last day or so I walked away with the prize.  And what was it, I hear you ask?
It was a dozen issues of the Bulletin of the Science Fiction Writers of America dating from 1967, the earliest being #10.  After I paid for them – with shipping, a little over a dollar each – the seller found another issue dated 1970 and threw it in.
A few days later the package came, and I slit the tape carefully to open it.  They don't look like much: just 8.5×11″ pages folded in half and stapled to make a booklet.  The pages are browned; the few photos are black and white.  All in all, pretty unimposing, really.
So why were my hands shaking as I lifted them gently out of the box?