Birthday Reviews: Elizabeth Engstrom's "Seasoned Enthusiast"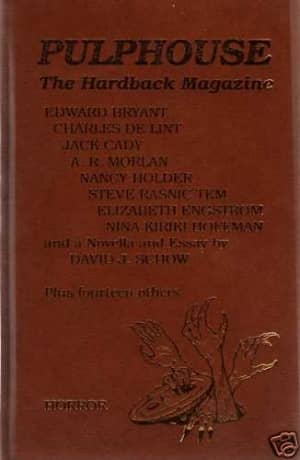 Elizabeth Engstrom was born on May 11, 1951. She occasionally writes using the name Liz Cratty as well.
Engstrom's collection Nightmare Flower was nominated for the Bram Stoker Award and she co-edited the anthology Imagination Fully Dilated with Alan M. Clark, which earned them an International Horror Guild Award nomination.
"Seasoned Enthusiast" first appeared 1990 in Pulphouse: The Hardback Magazine: Horror, the seventh issue, edited by Kristine Kathryn Rusch. Engstrom later reprinted the story in her 1992 collection Nightmare Flower.
The short work "Seasoned Enthusiast" tells two parallel tales, one about a dancer performing in front of an audience, the other the story of a divorced woman who is considering her own self-worth in light of her husband's new life.
The more interesting story looks at Lillian, whose life has fallen apart after her divorce and she's living in squalor while her husband and his new wife start their life together in an upscale house, a symbol of the success which eluded the couple while they were married. Unable to separate her life from his, and seeing herself as a failure because she lost him, Lillian drives over to her ex-husband's house without a firm plan in mind, feeding her obsession with him without any plan of action.
In the other story, a crowd gathers around to watch a woman dance in an apparently primitive setting. As the dance sequences are interwoven with Lillian's story, it becomes clear that things aren't quite as they seem. There is an element of danger in the woman's dance and she has suffered for her craft as she has perfected it.