The Golden Age of Science Fiction: Scientifriction #11, edited by Mike Glyer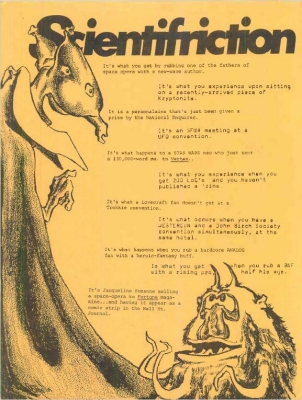 The Fan Activity Achievement Awards, or FAAN Awards were founded in 1976 by Moshe Feder and Arnie Katz. Created to highlight writing in fandom, they differed from the Fan Hugos in that they were voted on specifically by fanzine fans. The original awards were presented at various convention. Following the 1980 awards, the awards were on hiatus until 1994 and have been presented each year since, with the exception of 1996. Mike Glyer won the last of the original run of FAAN Awards for Best Fanzine, Single Issue for Scientifriction #11. The first winner was Outworld #21/22, edited by Bill and Joan Bowers. The category was not revived after the hiatus, being replaced by the Best Fanzine category.
While Mike Glyer's File 770 can be considered a newszine of the science fiction fannish community, his zine Scientifriction could be seen as an opinion related work, although it contained far more than simply opinion pieces. In issue 11, Glyer opened up with an inside-baseball discussion of a proposal to add a Non-North American zone to the then current three zone rotation for Worldcons. At the time the Worldcon would rotate between the Eastern US, the Western US, and the Central US, with foreign worldcons being allowed to bid for any year. The proposal would have added a fourth zone, limiting when foreign worldcons could be held, but ensuring one would be held every fourth year. The proposal raised quite a bit of debate, including the opinion that the change would actually further cement worldcon as a US event.
Glyer also published his own article on the game Hell is High, which he would later rework for the second issue of my own fanzine, Argentus, published 23 years later. Glyer's description of the game mechanics, camaraderie, and rivalry make the evenings spent playing Hell Is High sound like a wonderful place and time to have been able to experience.