Random Reviews: "Divina" by Sarah Ash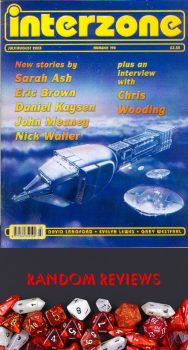 Sarah Ash's "Divina: A Tale of Bel'Esstar" is set in her city of Bel-Esstar and focuses on the opera composer Avenel Brumiere and his muse, the Divina Oralie. Unfortunately for both of them, the story opens with Oralie's costume igniting on the stage lights and the soprano suffering horrible burns all over her body, to which she would succumb despite the intervention of a mysterious doctor.
Part of Ash's story deals with Brumiere's attempts to work through his grief at the loss of his paramour and inspiration. As may be expected, Brumiere's attempts to complete his next opera are stymied by the loss of the only woman he believes would have been able to sing the part he was writing. Dust comes to cover the score he was working on.
When the mysterious doctor appears with the offer to not only help Brumiere through his grief, but also help him regain his ability to compose, Brumiere ignores his offer. At this point, the story appears to move from a study of grief on the creative process into a deal-with-the-devil story, supported by the doctor's business card which identifies him as Asmodé, who exhibits automata at the House of Asphodel.