Birthday Reviews: S.N. Lewitt's "Festival"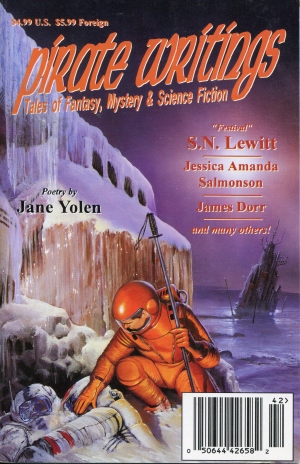 S.N. (Shariann) Lewitt was born on September 29, 1954. She has also published as Rick North and Gordon Kendall, the latter in collaboration with Susan Shwartz.
Lewis has published under her full name as well as her initials. Her novels include original works such as Angels at Apogee, Rebel Sutra, and Memento Mori, as well as the Star Trek novel Cybersong. She collaborated with Shwartz on the novel White Wing and has written two books in The Young Astronauts series as Rick North.
"Festival" appeared in the Summer 1994 issue of Pirate Writings, edited by Edward J. McFadden. It was reprinted in The Best of Pirate Writings: Tales of Fantasy, Mystery & Science Fiction, also edited by McFadden.
Lewitt has set "Festival" on an alien world settled by humans. The early settlers found the world to be an inhospitable place with a jungle that seemed practically sentient and intent on destroying the colony. Eventually, technological means were invented to keep the jungle from encroaching on the colony and at the same time a raucous annual festival emerged, which invariably resulted in the deaths of some of the revelers. Secret Societies sprung up to find those who died in the revels and take their bodies outside as a tribute to the jungle.
Sandro is preparing not only for the festival, donning a costume like all the other revelers, but also for his induction into the Red Men's Society. The story talks about his preparations and then goes into a lengthy flashback to give the reader the history, intentionally vague, of the planet and the festival, before connecting Sandro to his sponsor for membership in the Red Men's Society, his co-worker Chema. The two men go out on patrol, looking for the bodies of the dead to drag out into the jungle while wearing full environmental suits so they won't have to worry about their own exposure.
The short length of the story combined with its flashback nature gives it a disjointed feel. Lewitt is not able to give sufficient coverage to either the origins of the colony's culture nor to Sandro and his desire to become part of the Red Men's Society or his reaction to the secrets he is exposed to. While his reaction to those secrets is one which seems completely human and normal, it doesn't seem to take the colony's values into consideration.