Birthday Reviews: Fred Lerner's "Rosetta Stone"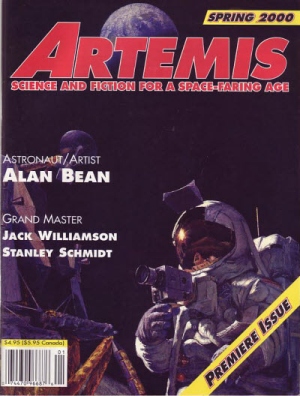 Fred Lerner was born on December 27, 1945.
Most of Lerner's writing is non-fiction. In fact, "Rosetta Stone" seems to be his only fictional credit. He has published the fanzine Lofgeornost since 1979 and many of his articles have been collected in the A Bookman's Fantasy. His scholarly work includes The Story of Libraries, A Silverlock Companion, and Modern Science Fiction and the American Literary Community.
"Rosetta Stone" appeared as the first story in the debut issue of Artemis: Science and Fiction for a Space-Faring Age in Spring 2000, edited by Ian Randal Strock. The story has never been reprinted.
One of the stranger books in my collection is a brief treatise written by Terry Belanger in 1985 called Lunacy and the Arrangement of Books, which discusses a variety of ways private collectors have arranged their libraries to allow them to find the books they want, which may seem to make sense to that individual collection but can look random to anyone else.
The main character of Lerner's "Rosetta Stone" is, like the author, an information scientist who has an interest in books. Dan is called by his old college roommate, Jack Hawkins, who invites him to the lunar base for some consulting on a confidential matter. When Dan arrives, he learns that a base has been discovered on the moon which looks a lot like the ones built by Lunar Labs, but which was not built by anyone known. Furthermore, the base has a library of human books from a variety of countries. Lunar Labs is hoping that Dan might be able to figure out something about the aliens who are believed to have built the base by the way they organize their books.
There are several points raised in the story, but dropped: Who the aliens are, why they chose the books they did, how they got the books up to the moon. Other questions are actually dealt with, although not always successfully. Jack explains why they decided to call on Dan rather than archaeologists or librarians or other people who might have seemed like a better match for the conundrum. In addition to Dan's ability as an information scientists, he was also chosen because of late night musings he had shared with Jack when they were in college, a weak reason, perhaps, but it manages to fit into the story and Dan does, eventually, begin to provide results.