Random Reviews: "Roses" by Deborah Burros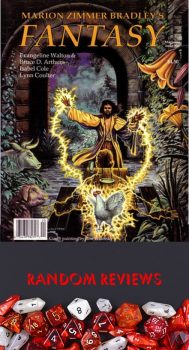 Deborah Burros had a relatively short writing career, publishing a total of five stories between her debut in 1991 with "Masks" and her most recent story, "Artistic License," which appeared in 2002. Three of her stories appeared in the Sword and Sorceress anthology series, while the other two appeared in Marion Zimmer Bradley's Fantasy Magazine. Her middle tale, "Roses," appeared in the Summer 1993 issue of the magazine.
Burros tells the story of the marriage between Lady Rose and Lord Sleet. It is not a happy marriage, for neither of them loved the other and it was understood by both that Lord Sleet had married Lady Rose for her family's money and Lady Rose had married Lord Sleet in order to gain a veneer of respectability for a family whose money was apparently made under unsavory conditions. The couple seemed to have come to an arrangements, however, wherein Lady Rose would spend her time cultivating a rose garden and Lord Sleet would spend his time in dalliance with his mistress, Jade.