Birthday Reviews: Robin D. Laws's "Brainspace"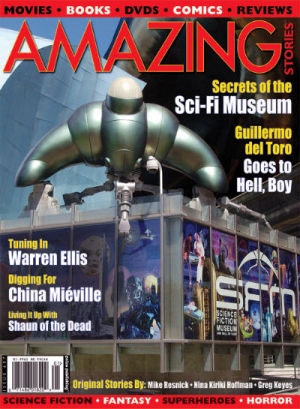 Robin D. Laws was born on October 14, 1964.
Laws is probably best known as a game designer, beginning with input on Over the Edge in 1992. He went on to help with the foundation of Daedalus Games and the publication of the Shadowfist collectible card game and the associated Feng Shui RPG. He subsequently wrote for a variety of games and created Hero Wars and The Dying Earth Roleplaying Game. His game Hillfolk won the 2014 Diana Jones Award.
Laws published "Brainspace" in the January 2005 issue of Amazing Stories, edited by Jeff Berkwits. The story had not been reprinted since its original appearance.
"Brainspace" is told over a period of seven months as Laws's narrator realizes that he is living a completely lonely life in his apartment building, not making connections with any of his neighbors, and simply moving through his daily existence. When he decides to grab a burger at the local O'Dell's fast food chain, he recognizes the guy in line with him as being from his apartment and they strike up a conversation, leading to a new friendship.
Over the months of the story, the narrator gains a group of friends, all of whom live in the building, and begins to recognize and chat with his other neighbors. He also becomes aware that against all odds, everyone in the building had begun eating at O'Dell's, to the complete exclusion of any other fast food restaurants. An interest in the concept of lucid dreaming leads him to believe that O'Dell's has someone managed to infiltrate advertising into the dreams of everyone who lives in the building.