Birthday Reviews: Patricia C. Wrede's "Rakiki and the Wizard"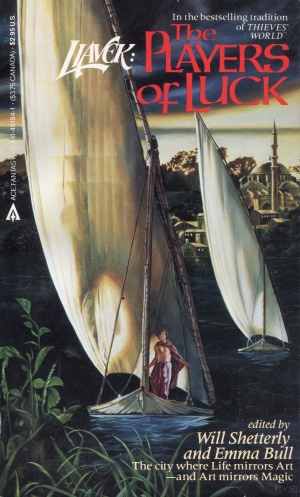 Patricia C. Wrede was born on March 27, 1953. Her novel Calling on Dragons was nominated for a Mythopoeic Award for Best Children's Fantasy and her story "Utensile Strength" was long-listed for the James Tiptree, Jr. Memorial Award.
"Rikiki and the Wizard" was written for the Liavek shared world series edited by Will Shetterly and Emma Bull. It appeared in the second volume, The Players of Luck, published in 1986. Wrede included the story in her collection Book of Enchantments and in Points of Departure: Liavek Stories, which collects Wrede and Pamela Dean's Liavek stories.
Wrede tells a fable with the story of "Rikiki and the Wizard," a pleasant take on a traditional lesson. Extremely powerful and lucky (for luck is magic in Liavek), the Wizard can never satisfy his need for fame and decides to trade his daughter Ryvenna to any god who will grant him the enduring fame he desires. In his hubris, the Wizard failed to consult with his daughter about this plan, which annoyed the gods, who feel that she should have some say in her own fate, and they agree to ignore his summons.
Rikiki, however, while a god, is also a blue chipmunk, with a short attention span about anything except his quest for nuts. Forgetting the bargain of the gods, Rikiki seeks out the Wizard and asks for nuts. While the Wizard tries to get rid of the chipmunk (causing the creation of the world's geographic features, the way it happens in fables about gods), his daughter eventually gives Rikiki nuts.
Of course, there are different types of luck and different types of fame and in the end the Wizard gains his fame (although Wrede cleverly never gives him a name), and Ryvenna lives happily ever after.