Birthday Reviews: Rick Wilber's "Greggie's Cup"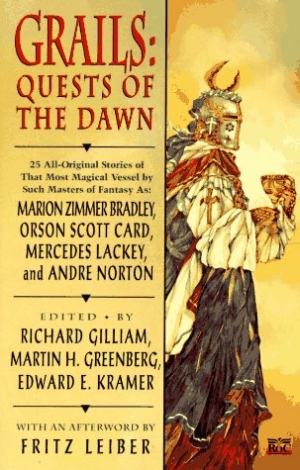 Rick Wilber was born on September 4, 1948.
Rick Wilber won the Stephen R. Donaldson Award for scholarship at the IAFA in 2006 and the Sidewise Award for Alternate History in 2013 for his story about catcher/spy Moe Berg. He has also been nominated for the John W. Campbell Memorial Award. In 1997, along with Sheila Williams, Wilber founded the Isaac Asimov Award for Undergraduate Excellence in Science Fiction and Fantasy Writing that is presented annually to students at the IAFA. In 2005, Asimov's name was replaced in the award title with Dell Magazines.
"Greggie's Cup" was written for the 1992 anthology Grails: Quests, Visitations and Other Occurences, edited by Richard Gilliams, Martin H. Greenberg, and Edward E. Kramer. The only place it has been reprinted is in one of the two trade paperbacks which were issued to split that massive collection into a more manageable size for reprinting, Grails: Quests of the Dawn, in 1994.
Greg is a back-up quarterback at the end of an uninspiring career, dealing with the aftermath of his second divorce, who takes Greggie, his twelve year old son with Down's syndrome, with him to visit his sister in Scotland to try to figure out the next steps of his life. While Greg is talking to his sisters and brother-in-law, striking up a conversation with a woman who is interested in him for who he is rather than because he's a football player, and talking to a team owner about a possible coaching job in the Scottish league, Greggie is off exploring the ruins of a Roman fort and pretending to be a knight.
The fort is more than just a playground for Greggie. Having heard his uncle Tam talking about how everything in Scotland has a tie to King Arthur, Greggie plays that he is fighting with a knight, who slips through time to actually befriend the boy. Sir Lancelot is supposed to be questing for the Holy Grail, but has doubts about his ability to find it since he knows he isn't pure enough to hold the Grail. Greggie, of course, only sees the good in Lancelot, the fact that he befriended the boy. That is enough for Greggie and knowing that Lancelot is looking for a cup, he gives him the small plastic trophy that he won at a basketball game.