Birthday Reviews: Kim Newman's "Richard Riddle, Boy Detective in 'The Case of the French Spy'"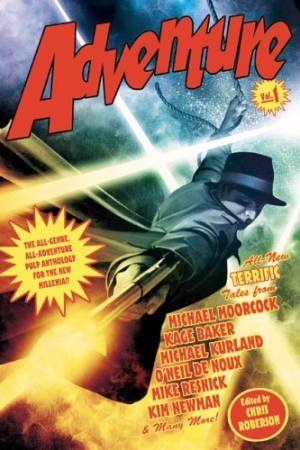 Kim Newman was born on July 31, 1959.
Newman won the Bram Stoker Award for his books Horror: 100 Best Books and Horror: Another 100 Best Books, both written with Stephen Jones. He won the British Fantasy Award for his collection Where the Bodies Are Buried and the British SF Association Award for his short story "The Original Mr. Shade." His novel Anno Dracula won the Prix Ozone, the Lord Ruthven Award, and the International Horror Guild Award, with its sequel, The Blood Red Baron also winning the Prix Ozone and the short story "Coppola's Dracula" winning the IHG Award. He has been nominated for the Sidewise Award five times, twice for works in his Anno Dracula series, twice for works co-written with Eugene Byrne in their Back in the U.S.S.R. series of stories, and once, with Paul McAuley, for their script for the Prix Victor Hugo, given at Intersection, the 53rd World Science Fiction Convention held in Glasgow.
"Richard Riddle, Boy Detective in 'The Case of the French Spy'" was originally published in volume one of the anthology Adventure, edited by Chris Roberson in 2005 (there was no volume 2). Stephen Jones reprinted it in Summer Chills: Tales of Vacation Horror. Newman included it in his collection The Secret Files of the Diogenes Club, a series to which the story is loosely connected. Jones reprinted the story a second time in the anthology Weirder Shadows Over Innsmouth.
Dick, Violet, and Ernest are three kids growing up in Victorian England. To keep themselves occupied, Dick has formed the Richard Riddle Detective Agency, in which he solves minor crimes using Violet's inquisitiveness and education and Ernest's muscle. How real the crimes are is a matter of conjecture, and the kids admit that the majority of the "crimes" they solve were committed by their nemesis, Tarquin "Tiger" Bristow. The story is a tribute to the sort of boys adventure stories which flourished from the late nineteenth into the twentieth century.
The Case of the French Spy focuses on a fundamentalist minister, Daniel Sellwood, who comes to the kids' attention when he destroys a large ammonite that Violet has found. Violet's current interest is paleontology, but the anti-Darwinian Sellwood views fossils as being planted by the Devil to lead people astray, and therefore only fit for destruction. The members of the Detective Agency soon decide that Sellwood is either a smuggler or a spy and break into a tower that belongs to him, only to discover that his villainy goes much deeper than they had suspected.