Birthday Reviews: Raymond Z. Gallun's "Magician of Dream Valley"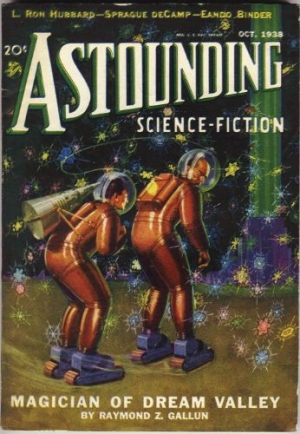 Raymond Z. Gallun was born on March 22, 1911 and died on April 2, 1994.
Gallun was inducted into the First Fandom Hall of Fame in 1979. He wrote during a period when many authors focused on short fiction, and he did, although he also published several novels, including The Planet Strappers, Skyblaster, and Bioblast. His short fiction has been collected in two volumes, The Best of Raymond Z. Gallun and Anthology of Sci-Fi V4: Raymond Z. Gallun.
Gallun has collaborated with Robert S. McReady, Jerome Bixby, and he based a story on an outline by fan John B. Michel. In 1936, he participatws in a series novel with Eando Binder, Jack Williamson, Edmond Hamilton, and John Russell Fearn. Gallun has also used the pseudonyms Dow Elstar, William Callahan, and Arthur Allport.
"Magician of Dream Valley" was first published in the October 1938 issue of Astounding Science Fiction, edited by John W. Campbell. Forrest J. Ackerman and Pat LoBrutto included it in Perry Rhodan #71: The Atom Hell of Grautier in 1975 and in 1978 it was reprinted in The Best of Raymond Z. Gallun. In 1982, the story was translated into Italian for inclusion of a short collection of Gallun stories.
Jack Vickers in a reporter who had traveled to the moon to interview a recluse, Clyde Athelstane, also known as the "Magician of Dream Valley." The valley, near Mare Imbrium, has a strange phenomenon known as Hexagon Lights. Vickers wants to learn what they are and what Athelstane might have to do with them.
Athelstane isn't what Vickers was expecting and the hermit immediately presses the newsman into his service to care for the Hexagon Lights, which Athelstane claims are being threatened by human lunar mining and may, in fact, be sentient beings. Even as Vickers realizes the Athelstane is insane, he works with him to try to protect the Hexagon Lights against possible destruction. In the end, however, Vickers breaks free from Athelstane's spell, believing the Lights to be more dangerous than endangered.