Birthday Reviews: Adam Roberts's "Pest Control"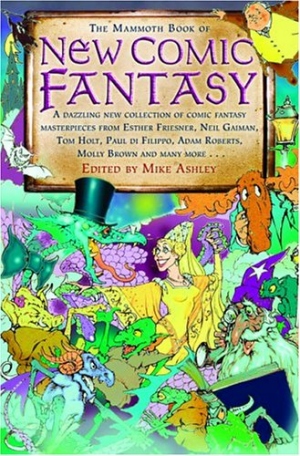 Adam Roberts was born on June 30, 1965.
Roberts won the John W. Campbell Memorial Award and the British SF Association Award for his novel Jack Glass in 2013. In 2016, he won a second BSFA Award for his non-fiction book Rave and Let Die: The SF and Fantasy of 2014. He has also been nominated for the Arthur C. Clarke Award, the British Fantasy Award, the Philip K. Dick Award, the Sidewise Award, and the Kitschies. In addition to writing series science fiction, he also has published several fantasy parodies, usually identifiable based on a series of Rs as his middle initial.
"Pest Control" was purchased by Mike Ashley for inclusion in the 2005 anthology The Mammoth Book of New Comic Fantasy. Although it appeared in a Science Fiction Book Club reprint of the volume, it has not appeared elsewhere.
A familiarity with the poem Beowulf is a benefit for those reading Adam Roberts's "Pest Control," although at the same it can be something of an hindrance. The story relates the events of the poem, but rather than Beowulf coming to Hrothgar's aide to rid Heorot of Grendel, in Roberts's version of the story, Beowulf, or Mr. Wulf, calls a modern day pest control company to get rid of the creature.
The humor of the story comes from the juxtaposition of the ancient story of Beowulf and Des Hannigan, the representative of King and Kegan Pest Control, treating the situation as normal, although he thought he was being called to take care of a rat infestation rather than a Grendel. The story follows the tripartite nature of the original poem, so anyone who knows the poem has a good idea about the results of each of the attempts at pest eradication.
Roberts manages to make his jokes land, although it seems like having Mr. Wulf as the pest control specialist and the person with the Grendel problem being a Mr. Hrothgar would have fit the pattern of the original poem a bit better. As it is, Des provides solutions for the clearly not very bright Mr. Wulf and while the reader is allowed to see the progression of the story, the ultimate pest control issue is left to the imagination.