Birthday Reviews: P.D. Cacek's "A Book, by Its Cover"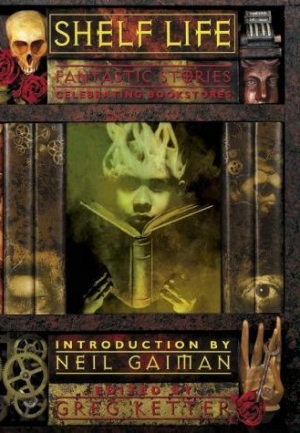 P.D. (Patricia Diana Joy Anne) Cacek was born on December 22, 1951.
Cacek won the Bram Stoker Award for Superior Achievement in Short Fiction in 1996 for her story "Metalica" and the World Fantasy Award for Best Short Fiction in 1998 for the story "Dust Motes." She has been nominated for the Stoker five additional times as well as for the International Horror Guild Award.
"A Book, By Its Cover" was published in Greg Ketter's anthology Shelf Life: Fantastic Stories Celebrating Bookstores in 2002. David G. Hartwell and Kathryn G. Cramer selected it for inclusion in their collection Year's Best Fantasy 3 the following year. It has not, otherwise, been reprinted.
Cacek has set "A Book, By Its Cover" in February 1939, three months after November 9 when Nazi Sturmabteilungen moved through Jewish areas to destroy buildings and arrest men, a night that became known as Kristallnacht. On that night, young Yavin Landauer watched his grandfather's tailor shop burn after the Nazis killed him and saw one of his former friends, now a member of the SA, burning the books that they used to read together in Reb Shendelman's shop. The Nazis spared Shendelman because they were amused that the old man would be more concerned over the burning of books than the deaths of his neighbors.
When the story opens, Yavin is disgusted with Shendelman for the very reason the Germans let him live. Living in the remains of his grandfather's shop and scrounging food where he can, he notices a man visiting Shendelman each day. On each visit, the man brings a child to Shendelman's shop and leaves the child there, walking away with a package traded for the child. Yavin decides to confront Shendelman for his disgusting crimes of trafficking in children.
The confrontation doesn't go as Yavin expects, with Shendelman welcoming the young boy into his empty shop and feeding him soup, the first time Yavin has felt full since before Kristallnacht. Shendelman tells him a fairy tale about his own activities, one that Yavin can't believe until he receives some proof, but even then he is skeptical. Their discussion takes a darker turn when Yavin's friend, Karl, who is now with the SA, decides to pay a visit and finish the job started in November.