Birthday Reviews: Wallace West's "No War Tomorrow"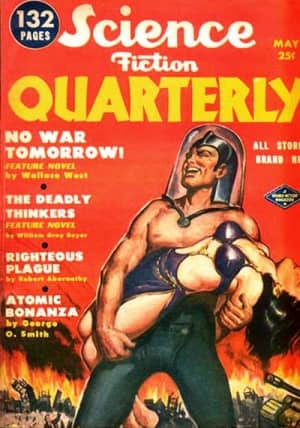 Wallace West was born on May 22, 1900 and died on March 8, 1980.
West began publishing speculative fiction in 1927 with the story "Loup-Garou," which appeared in Weird Tales. Working mostly at short fiction lengths, he didn't limit himself to science fiction and fantasy and his story "Muddy Waters" was turned into the 1933 film Headline Shooter.
"No War Tomorrow" was printed in the first issue of Science Fiction Quarterly, published in May 1951 with Robert A.W. Lowndes as the editor. In January of the following year it appeared in the magazine's British edition. West included the story in his 1962 collection Outposts in Space.
The world of West's "No War Tomorrow" is something of a mess. The major power is the United Stars, which seems to govern Earth, the Moon, Mars, and part of Venus, all of which appear to be inhabitable and suitable for human life, although there may be domes or terraforming that has occurred on Mars and the Moon. West's focus, however, is on Venus, which is divided by the United Stars and the local Big Shots, who rule an anarchic area where the laws requires people to fend for themselves, although at the same time there is a civilization and police force, without explanation for how either survive.
Although West's hero is Captain Frank Sage of the Space Patrol (part of the United Stars), his protagonist is really Sage's girlfriend, Sadie Thompson, who dresses in barely enough clothing to highlight her figure, and who varies between being hyper competent and acting like a flirtatious girl who barely knows what is going on. While this might make sense if West used these variations to further the plot, they mostly seem to be used at random when he isn't sure what to do with the character. Despite Thompson's general ability, as well as the abilities of another female character, Greta, the depiction comes across as misogynistic.