Birthday Reviews: Ramsey Campbell's "No End of Fun"
Most days in 2018, I'll be selecting an author whose birthday is celebrated on that date and reviewing a speculative fiction story written by that author.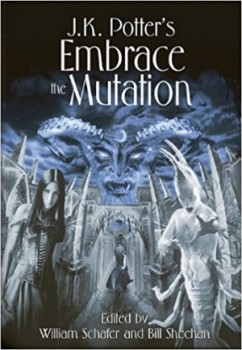 Ramsey Campbell was born on January 4, 1946 in Liverpool. His story "The Chimney" won a World Fantasy Award in 1978 and two years later he won again with his story "Mackintosh Willy." Additional World Fantasy Awards came for Best New Horror, which he edited with Stephen Jones, and the collection Alone with the Horrors, which also won a Bram Stoker Award. His essay collection Ramsey Campbell: Probably also won a Bram Stoker Award. He has won the British Fantasy Award twelve times, more than anyone other than Stephen Jones.
Campbell's first published story was "The Church in High Street" (1962), which I included in my 2003 anthology Horrible Beginnings, which reprinted the first stories by various horror authors. His story "No End of Fun" was originally published in J. K. Potter's Embrace the Mutation, edited by William Schafer and Bill Sheehan and published by Subterranean Press in 2002. Campbell also included it in his collection Told by the Dead the next year and it was selected by Ellen Datlow and Terri Windling to appear in their annual The Year's Best Fantasy and Horror.
Ramsey Campbell's "No End of Fun" probably had a dated feel, at least to American readers, when it was first published. It tells the story of Lionel, who is visiting the boarding house run by his cousin Dorothy's daughter, Carol, for the first time since Dorothy's funeral. The story follows Lionel's attempts to connect to Carol's thirteen year old daughter, Helen, who sees his visit as a chance to escape the drudgery of helping her single mother run the boarding house as well as a chance to spend time with the boyfriend her mother has forbidden her to be with. Lionel attempts to take her to a carnival, only to watch her run off to go on rides with her boyfriend while he tries to win her a prize. The next night, he winds up going to the theatre alone, giving her instructions to meet him when the show is over so they can return to the boarding house together.
Although his cousin Dorothy is not the focus of his attention during the trip, her presence is never far from his mind. He is staying in her room and occasionally sees her image in an old mirror located in the room. Lionel notes that Helen resembles Dorothy in ways Carol never did.