Birthday Review's: Benjamin Rosenbaum's "Nine Alternate Alternate Histories"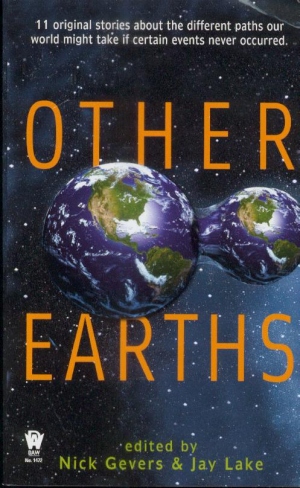 Benjamin Rosenbaum was born on August 23, 1969.
Rosenbaum has been nominated for the Hugo Award and the Theodore Sturgeon Memorial Award three times each and the Nebula Award, World Fantasy Award, and British SF Association Award once each. Rosenabum's short stories have been collected in Other Cities and The Ant King and Other Stories. He has written collaborations with Paul Melko, David Ackert, and Cory Doctorow.
Benjamin Rosenbaum published "Nine Alternate Alternate Histories" in the anthology Other Earths, edited by Nick Gevers and Jay Lake in 2009. The piece has not been reprinted.
Rosenbaum's "Nine Alternate Alternate Histories" really is neither an alternate history or even a story. Rather it takes a look at the idea that there might be a multiverse in which history can continuously branch off to form different alternatives and seeks to categorize the types of branch points which might be possible.
The story is a conjectural on the different ways people view history and on the decision making process. Rosenbaum looks at convergence, divergence, and provisional history along with his view of different types of choice. While the tale doesn't work well from a narrative point of view, it does provide a background for the sorts of alternate history stories which are published (and were published earlier in the particular anthology).