Pavis – Gateway to Adventure: The Classic RPG City is Back! (Part Two)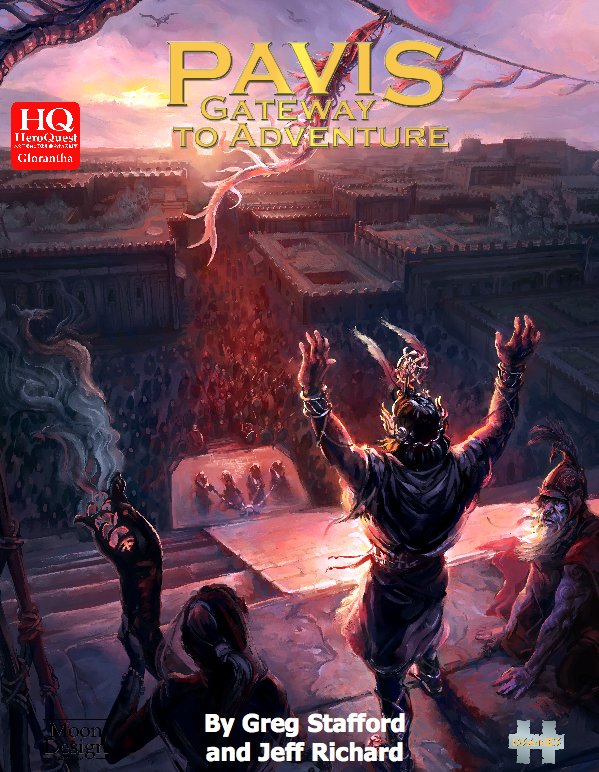 Last week I began my review of Pavis – Gateway to Adventure, the new RPG supplement from Moon Design Publications for its HeroQuest roleplaying game in the fantasy world of Glorantha, with a bit of history of this greatest of RPG cities, and an overview of what this massive new book contains. This week, I'd like to look at the book's content in far more detail, with a chapter-by-chapter breakdown of just what you get in its 416 pages.
Chapter by Chapter
To begin with, the book's cover is a nice full colour painting depicting a priest of the cult of Pavis, the city god, atop the ziggurat-like temple of Pavis in the new city, facing east over assembled city-folk and worshippers as the sun rises. In contrast to the green and earth tones of the previous two Sartar books, the cover is predominantly pinks, purples, and greys, emphasizing the hazy, desert-like environment of the city. It gives a feel for the predominance of religion – and religious intrigue – in the city.
After credits, contents, and introduction sections, the book launches straight into "Making Your Character". If you have Sartar: Kingdom of Heroes, you'll know what to expect here; except that in addition to the Sartarite settlers of Pavis County, there are also HeroQuest keywords and character creation guidelines for Old Pavisites, Sun Domers, Zola Fel Riverfolk, and even Lunar Settlers.