Birthday Reviews: Michael Cadnum's "The Elf Trap"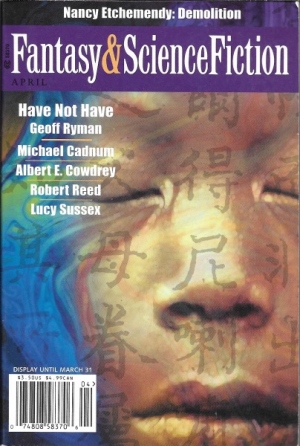 Michael Cadnum was born on May 3, 1949.
His first novel Nightlight was published in 1990, and he published three more novels the next year. His other works include Ghostwright, The Judas Glass, and Nightsong: The Legend of Orpheus and Eurydice. In addition to novels and short fiction Cadnum also writes poetry, and he received a National Endowment of the Arts fellowship for his poetry. His short fiction has been collected in Can't Catch Me and Other Twice-Told Tales, Earthquake Murder, and other collections. In novels Starfall and Nightsong deal with mythical themes, while In a Dark Wood and Forbidden Forest explore the Robin Hood mythos.
Cadnum's story "Elf Trap" was originally published in the April 2001 issue of The Magazine of Fantasy and Science Fiction, edited by Gordon van Gelder. In 2006 Cadnum included the story in his collection Can't Catch Me and Other Twice-Told Tales, published by Tachyon Publications.
"Elf Trap" is the story of Tina and Norman, a couple who are having some major problems with a rat infestation of their property, although it focuses on rats stealing food from their bird feeders. While Tina works on quilts, Norman's occupation is to provide the voice for Wise Elf in a series produced by Disney.
Although Tina is worried about the rat problem, her more important concern is that it isn't clear that Norman is able to discern between reality and the Wise Elf character who has endeared him to a generation of children. When they set a rat trap on their property, Norman becomes convinced that rather than catching a rat, they've accidentally caught and killed an elf, a possible delusion which Tina does not dissuade.
Although some aspects of their lives and relationship improve, Norman's career and reputation take a powerful hit as he can't deal with the thought that he caused the death of an elf, even inadvertently. Tina, in her own mind, takes credit for breaking Norman from his delusions that the elves are real, however she begins to question whether she or Norman had the more realistic view of the situation.